Mamie Johnson Proves Bigger Than Moniker
Negro League Hero Feted at White House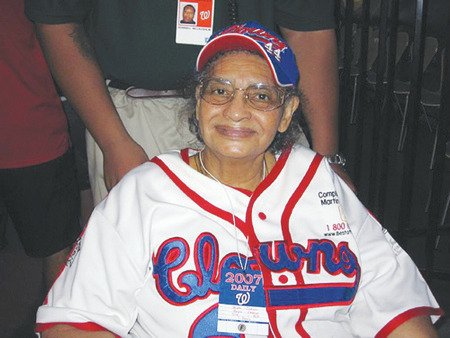 If a picture is worth a thousand words, then a photo of former Negro League star Mamie Johnson on the mound has got to be worth at least a million.
Johnson and more than a dozen other stars of a bygone era of baseball where blacks starred in a league of their own, visited the White House earlier this month and received praise from President Barack Obama, who lauded them for their courage in participating and excelling in a sport that didn't always welcome them.
"They may not have wanted us to play, but when Jackie Robinson opened those doors and when the Negro League All-Stars would play against the Major League Baseball All-Stars, our guys would whoop them every time," said Johnson, 77.
The petite former fireballer still laughs about the way in which she received the nickname, "Peanut." Standing all of 5-foot-3 and weighing 120 pounds, some say soaking wet, Johnson counted as one of three women to play in the male-dominated Negro Leagues in the 1950s. She pitched for the Indianapolis Clowns and the first batter to face her, Hank Baylis of the Kansas City Monarchs, openly questioned the tiny hurler's ability.
"He said I wasn't any bigger than a peanut and there was no way that I could strike out a man," Johnson said.
After the surly slugger whiffed on three pitches, Johnson's teammates and opponents recognized that her game was much bigger than her frame. With a fastball that matched any the majors or anyone else had to offer, Johnson recalled that many people wondered aloud where she got her strength. The answer, she said, remains quite simple. "I didn't grow up eating just sandwiches," she said. "I ate greens and cornbread and buttermilk."
Johnson, who lives in Northeast, pitched three seasons with the Clowns and won 33 games – considered outstanding by baseball standards.
"That was a great experience because, back then, our league had the finest baseball players in the world and it was just an honor to know that I was good enough to play with them," she said.
Earlier this year, Mayor Vincent Gray and several District of Columbia officials dedicated, Mamie "Peanut" Johnson Field, at the Rosedale Recreation Center in Northeast in her honor.
Prior to that, officials in her home state of South Carolina, named a street in her honor and on numerous occasions, Johnson has been asked to throw out ceremonial first pitches at ballgames throughout the country.

"Individuals who devote their time and talent to enhance the quality of life for others are worthy of praise and public recognition," said Gray, 70, who noted that the field is the first in the District to be named in honor of a woman.
Others agreed.
"Johnson is an amazing person and athlete as well as an example to all," said the District's Department of Parks and Recreation Director Jesus Aguirre. "She shows that with perseverance and discipline, you can achieve your dreams," he said.
Born in Ridgeway, S.C., in 1935, Johnson moved in with her grandmother after her mother migrated to Washington, D.C., to secure employment. Johnson started playing baseball at the age of seven after being taught how to pitch by an uncle.