New P.G. County Schools Chief Makes Rounds on First Day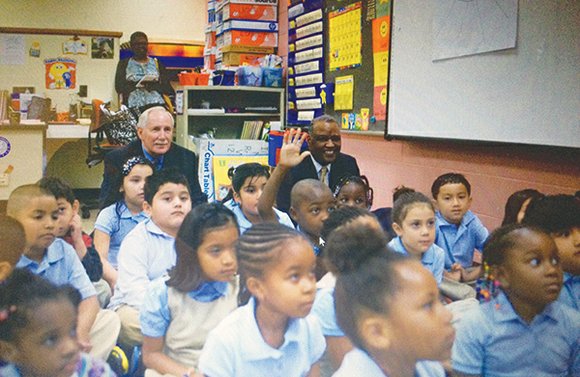 On the first day at a new school, Kevin Maxwell raised his hand, answered a teacher's question and tried to make friends with the boys and girls.
Maxwell happens to be Kevin Maxwell, Ph.D., the new chief executive officer for Prince George's County Public Schools (PGCPS) and on Monday, Aug. 19, the first day of school in the county, he visited five schools with Bladensburg Elementary School being the first.
"I am real excited," said Maxwell as he stood in front of the elementary school shortly before 8 a.m. "The promise, the potential, the opportunity of the first day. I never sleep well before the first day."
During the day, Maxwell, County Executive Rushern L. Baker III and an entourage of school board members, other school officials, Bladensburg's mayor and media visited Central High School in Capitol Heights, Andrew Jackson Academy in Forestville as well as Barnaby Manor Elementary and Oxon Hill High School, both in Oxon Hill.
Maxwell, who graduated from Bladensburg High School, talked about his commitment to visiting all 204 schools in the county during the school year.
"I like to see for myself the conditions, the class size, the curriculum being taught, the ways it's being taught," he said.
Raised in Prince George's County, Maxwell spent 22 years as a teacher, principal and administrator in the PGCPS. He served as superintendent in Anne Arundel County prior to Baker luring him back to the county this summer after a highly contested shake-up of the schools' administration system. At Baker's request the state legislature changed the structure of the school system with an expanded school board and the school chief now reporting to the county executive.
Maxwell shook hands with parents and welcomed students.
PGCPS Board Chair Segun Eubanks, Ed.D., also greeted students and parents outside the school as they arrived.
"What's your favorite subject," he asked one little boy.
"Clearly we are excited," Eubanks told a reporter. "It's Day One, the beginning of a new era in Prince George's County Public Schools. I believe we are now committed to excellence in a way that's serious with the county executive being all in, a reconfigured board … to move us to a level of achievement that we know our school and students can reach."
Bladenburg's principal Judith Haughton-Williams expressed her joy as well.
"I'm always excited to receive my students," said Haughton-Williams, adding that safety and an orderly environment are top priorities for the school's 730 students and staff.
Asked about the changes at the top of the school system, the principal said, "I perceive positive change will occur."
Parents and students arriving at the elementary school loaded down with school supplies and bulky book bags seemed far less concerned about the presence of officials and media.
Marquita Queen escorted her 4-year-old daughter Makhia Williams to school with her two other children in tow – a 3-year-old and a 2-week-old.
Queen said she was "excited and nervous" about her child starting pre-kindergarten.
Makhia said she looked forward to playing with toys and drawing.