Organized Labor Throws Support behind March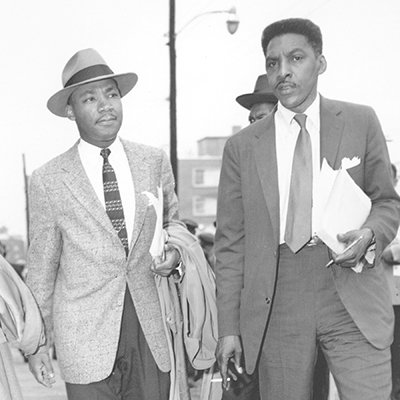 Randolph, then president of the Negro American Labor Council, also served as one of the primary march organizers. Both he and King planned separate marches, in August and October 1963 but King convinced him to join forces.

"The UAW, steelworkers, public employee unions, as well as wholesale and retailer unions were involved," said Lucy. "The theme of the march was jobs and freedom and the relationship of those struggles. The theme captured everything people involved sought to achieve. I don't know if we got what we wanted, but we've obviously made a lot of progress since that time. They wanted equal opportunity, collective bargaining, and recognition that people needed a voice on the job."
Judith Browne Dianis, co-director of the Advancement Project in Northwest, said the commemoration will help civil rights organizations and progressive groups to get back to basics.
"We're one of the newer civil rights organizations," said Dianis of her group, which was established in 1999. "The idea was to get back to what was best about the movement, support grassroots organizations and use the tools we have to effect change."
Dianis said the civil rights landscape is markedly different from 1963.
"Our issues have changed dramatically," she explained. "We've seen the death of Jim Crow but this is a new era of civil rights. We're moving with the times, dealing with social media, the death penalty, racial profiling and other issues. This is a different time which means different tactics."
She said her organization is doing all it can to get as many people out on the National Mall as possible on Saturday, Aug. 24 and Wednesday, Aug. 28.
"For us, it means that we're going to work to get people, that we're supportive and working in solidarity of the civil rights movement and issues around it," Dianis said. "I think the Supreme Court decision and the Trayvon Martin verdict has shown us that we can't afford to be complacent."
"The majority of the rank-and-file has not been engaged in the movement. We've made so much progress but the treatment of young black males and the way our children are treated in public schools, shows that we have a lot more to do."
Black people cannot be fooled that having an African American in the White House means all their problems are behind them, she said.
"Our community is devastated by recession, incarceration and dropout factories," Dianis said. "While we have the trappings of success, the issues and challenges we face are real."
Lucy said the level of animus and steady assaults against unions is striking.
"I've never seen this at a national level," he said. "We have a political situation where folks are being attacked for the right to bargain. At the end of the day, the right wing attack on organized labor seeks to push back gains unions have made. We have incredible numbers of low-wage workers and jobs. Labor has historically been on the frontlines of civil rights and it knows that we can't live on $7.25 an hour."