Toyota Plugs-In the Prius, Erasing Range Anxiety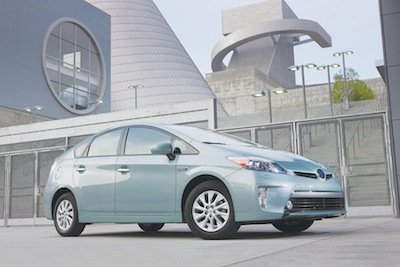 For many Americans, re-charging energy thirsty smart phones is a common place daily routine. Re-charging our iPad tablet computers, electric shavers or the little car vacuum cleaners we rely on to eliminate crumbs and dust from vehicle interiors has become second nature by now. Re-charging cars, however, will strike many as odd.
But we had better get used to the idea because plugging in cars is the wave of the future. According to the Department of Energy, at least a half a dozen carmakers have or are planning to introduce just this year alone, vehicles that can be plugged into the electric grid.
Plug-in Hybrid Electric Vehicles (PHEVs) are hybrids with high capacity batteries that can be charged by plugging them into an electrical outlet or charging station. PHEVs can store enough electricity from the power grid to significantly reduce their petroleum consumption under typical driving conditions.
The most popular PHEVs include the Toyota Prius Hybrid Plug-In, the Chevy Volt by GM, the Ford C-Max Energi. For each of these cars, you charge their battery before driving, and then travel a meaningful distance as an electric car before their batteries are spent. After that, their gas engines seamlessly start, and they carry on like familiar hybrids.
I recently drove a 2013 Toyota Prius Hybrid Plug-In which is essentially just a Prius whose nickel-metal hydride battery pack has been swapped for a far more potent lithium-ion pack. The Plug-in Hybrid comes with an easy-to-use external charging cable and the car's batteries can be fully charged in three hours from a simple household 110-volt outlet or an hour and a half from a 220-volt plug.
The Prius Plug-in Hybrid will allow true electric-vehicle, or EV, operation for up to 15 miles at speeds up to 62 mph. Operating in EV mode, I found the Prius Plug-in Hybrid to be extremely quiet, especially in neighborhood streets where it's impossible to drive above 25 mph.
During my daily commutes along I-395, a full charge was often sufficient for the 12 mile trip first leg to work, as long as I was judicious with my right foot. Like in a regular Prius, though, if I applied anything more than genteel pressure on the accelerator – say, as might be required to enter the freeway or accelerate up a slight hill, the car would fire up its internal-combustion engine with a groan.
The Prius PHV doesn't differ much from the regular Prius from a passenger standpoint – it is a spacious, practical mid-size hatchback that will hold five people and their gear, while retaining the highest-mileage. Hollowed-out front seatbacks help increase rear-seat legroom; though the padding on the front seats is skimpy and taller drivers will find the hard-plastic center console cutting into their knee room.
While some skeptics may doubt the usefulness of the Prius Hybrid Plug-In, a combination of electric charge and the hybrid technology should give you close to the 95 MPGE quoted by the EPA. Car and Driver magazine gives the Prius Plug-in an "Excellent" rating over five years. The starting price for the 2012 Prius Plug-in is $32,000.