Urban League Hosts Health and Employment Fair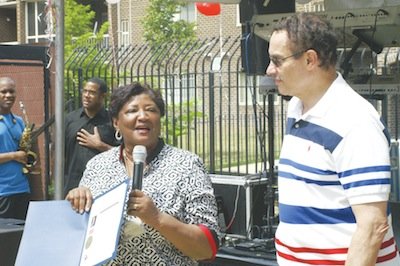 Children jumped up and down and tumbled around in a tall orange and black moon bounce, others looked on wide-eyed at clutches of multi-colored balloons tied together with ribbons, and watched a female clown fashion animals and other objects out of balloons. Close by, more children and their parents stood patiently waiting to get bags of popcorn delivered hot from a popcorn maker.
Minutes before the Community Health and Wellness Back to School Festival and Hiring Fair opened on Saturday, Aug. 16, a throng of people, primarily women and children, pressed forward waiting for security officers to let them into the courtyard of the Greater Washington Urban League (GWUL) in Northwest.
Around the corner, dozens of people seeking a job with CVS stood in a line that stretched from the Urban League's front door, around the corner and down the block.
"It's a big deal. It means that we're doing a good job in the community," said Janice E. Smith, the organization's chief operating officer of the turnout. "Our longevity is a testament to the work we do in the Washington, D.C. area. It's really important because we have to introduce ourselves to new groups, to a new generation."
"A lot of young people don't have close-up experience with us. Here, they get to see us and what we do."
The Greater Washington Urban League, one of the area's most active social service and civil rights organizations, is celebrating its 75th anniversary and more than seven decades of service to the community. GWUL provides assistance to more than 65,000 clients every year, including the working poor, individuals, families, children and those in need. It also offers scholarships to area students, summer enrichment programs and operates the Home Purchase Assistance Program for first-time home buyers.

Maudine Cooper, has served as president of the organization for almost 25 years and Smith, Mayor Vincent C. Gray (D) and others pointed to her stewardship for the agency's success.
"I have so many friends who're involved with the Greater Washington Urban League," said Gray during brief remarks and the presentation of a proclamation honoring the organization's 75th anniversary. "Maudine is like a rock. [Staff] is here every day because they believe in the mission of the Urban League."
Inside the courtyard, canopies and tents took up all the available space along the outer boundaries. Employees from clinics and health organizations including AmeriHealth and MedStar Family Choice offered free health screenings to the several hundred people who came by. Visitors lined up to receive book bags, pens, pencils and other school items; vendors sold soap, jewelry and other arts and crafts; and those who participated in the free health screenings for blood pressure, body mass index and other health indicators, received bags of fruits and vegetables.
Hope Tucker strolled around and stopped at the AmeriHealth tent where medical and other personnel checked people's blood pressure, body mass index and other health indicators.
"I wanted to see what was going on. I live on Irving Street taking care of my 88-year-old father, and I wanted some information, get my mind moving," said Tucker.