Urban League Hosts Health and Employment Fair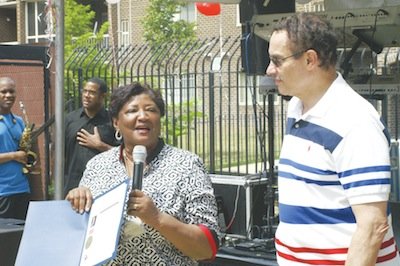 She said she appreciated the opportunity to learn about healthy habits and lifestyles and she gathered pamphlets and brochures, declining to take one about prostate cancer because the only man in her life at the moment, she told the AmeriHealth employee, is her father.
Thirty-five-year-old Southeast resident Joe Campbell stood in line for several hours in the heat and humidity waiting for an opportunity to apply for a job with CVS. After more than three hours, about 35 people stood between him and the GWUL front door.
"It's been hard looking for a job," he said. "I've been looking on the Internet, telephone, walking around, emails, Monster, everything. I'm soldiering on."
Campbell said he hoped to be hired as a pharmacy technician and according to Charnetia Young, CVS's manager of Workforce Development, the retail chain officials were seeking to fill more than 200 positions in the District, Virginia and Maryland.
"We're looking for people to fill all positions and we're looking for pharmacy technicians and supervisors," she said. "We have many available positions in the market for the right people at the right place at the right time."
Young said while CVS holds job fairs all the time, she was surprised at the number of prospective employees who showed up.
"The lines show you the need for jobs," Smith said. "People want to have money to live, rent an apartment, take care of their needs. This shows that people are willing to work. People have been here since 8 a.m. – they want an opportunity to work."
Audrey Epperson agreed.
"A lot of people are unemployed or underemployed," said Epperson, GWUL's director of education, employment and training. "I'm not really surprised by the number of people outside, judging from the number of telephone calls we received."