Wells Offers Own Minimum Wage Bill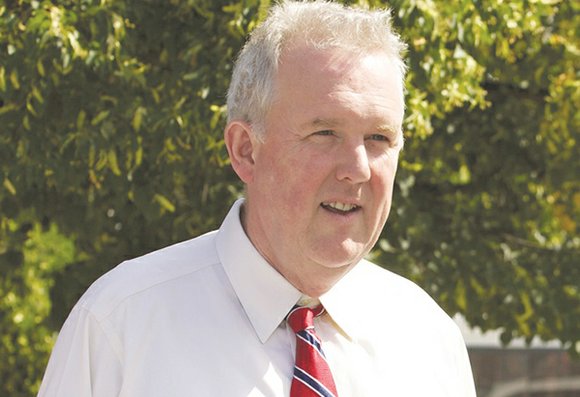 Ward 6 Council member Tommy Wells said he regrets his colleagues' decision to vote for what they call the "Living Wage" bill last month.
Eight members of the D.C. Council joined together to put their support behind a bill that would require businesses that make more than $1 billion annually or which operate in spaces 75,000-square-feet or larger, to pay their employees $12.50 an hour.
The 8-5 measure incensed Wal-Mart officials who accused the legislative body of targeting them and pulling a bait-and-switch. Wells said the legislation will definitely hurt the prospects of new businesses coming to D.C. and those who're already here from expanding.
"This is against Wal-Mart," said Wells of the bill during a recent interview. "When the city negotiates deals and we have anchor tenants, for us to change the rules on them is not a good idea. It undercuts Washington's image as one who wants to do serious business."
Wells, who is serving his second term, has his own minimum wage bill that he said he'll present to the council for consideration when it reconvenes.
"The president proposed $9.25 and I think that sounds right to me," he said. "We may want to go higher in the next few years. My bill helps all the residents. It's a guarantee of a higher minimum wage."
Wells, 56, said employees can itemize their deductions and keep more money in their pockets. And taxpayers won't be on the hook because of the increased income taxes the city would receive from people who'll be working. In addition, Wells said, he proposes creating what he calls a "Healthy D.C. Fund" that District employers would have to pay into if they use part-time employees.
"This solves the problem for more residents than the 'Living Wage' bill," he asserted.
Mayor Vincent C. Gray still has to decide whether he'll veto the "Large Retailer Accountability Act" or not. Gray said recently that he had not received the bill from Council Chairman Phil Mendelson but when he does, he'll have 10 days to sign or veto it.
There's a lot at stake.
Wal-Mart officials like Alex Barron, a regional general manager for Wal-Mart U.S., describes the legislation as "arbitrary and discriminatory" that "discourages investment in Washington." As a consequence, he said, Wal-Mart will not build proposed stores at Skyland, Capitol Gateway or New York Avenue. And since the council passed the bill, he and other Wal-Mart officials say, whether or not they finish the three stores already under construction, will depend on a thorough review.
In an earlier interview, local labor leader Joslyn Williams said he's unimpressed with Wal-Mart's threats.
"They've made this a fight about Wal-Mart. We didn't," said Williams, president of the Washington Metropolitan Chapter of the AFL-CIO. "Wal-Mart took offense to it. If the shoe fits, wear it. They got uptight, came in with guns blazing, made it about them when it isn't."
Williams, who has headed the union for 30 years, said the bill applies to businesses across the board including some like Costco, Home Depot and Macy's and they have not threatened to leave.