Who's the Greatest D.C. Sports Star of All Time?
Alex Ovechkin, Elvin Hayes, Art Monk Top Poll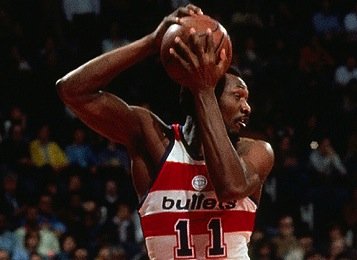 John Riggins rushed for a then-Super Bowl record 166 yards in 1983 leading the Washington Redskins to their first championship in 40 years.
Elvin Hayes, named one of basketball's 50 greatest players, teamed with Wes Unseld to lead the Bullets, who later were renamed the Wizards, to three NBA Finals appearances and a world championship in 1978.
Despite the outstanding accomplishments of each of those Washington, D.C., superstars, they must take a back seat to Capitals star, Alex Ovechkin.
The hockey sensation has been named the greatest athlete in D.C. sports history in a poll taken earlier this month by Yahoo! Sports.
"With many triumphant and forgettable seasons surely ahead, this list is a quick look back at some of the greatest and most beloved athletes in Washington history," said John Cannon, a Virginia native who lives in Northeast.
Cannon, a lawyer who regularly contributes sports columns about the Nationals to Yahoo!, compiled the Top 10 list of the greatest area athletes earlier this month with the help of nearly 7,000 District residents who responded to the web poll.
"When you're talking about D.C. sports, you can't have a conversation without including people like John Riggins, Art Monk, and Walter Johnson," said James Patterson, a Southeast resident and self-described avid Redskins and Wizards fan.
"Number 1 on my list would be Art Monk with John Riggins not far behind," said Patterson, 49.
Riggins remains a favorite of Redskins fans and, his game-changing touchdown run in Super Bowl XVII led the faithful to vote the play as the greatest moment in the team's history.
With blazing speed and soft hands, Monk's 14 seasons in Washington were highlighted by the team's three Super Bowl victories. The dynamic wide receiver also caught 50 or more passes and exceeded 1,000 yards, nine times.
The Top 10 also includes the late Johnson, who pitched and later managed the Washington Senators. Considered among the most dominating players in baseball history, Johnson established a number of pitching records, including registering an all-time high of 110 shutouts. Additionally, Johnson won an astounding 417 games over the course of his career.
Many fans agreed with most names on the Top 10 list, but lamented that others had been omitted.
"No one talks about Doug Williams, the first black quarterback to win the Super Bowl," said Clarice Anderson, a sports fan who lives in Southeast.
"There is no way the Redskins would have won without Doug Williams and he was smooth and graceful," said Anderson, 55.
Facing legendary Denver Broncos quarterback John Elway in Super Bowl XXII, Williams guided the Redskins to a 42-10 victory and set a record by scoring five touchdowns in the second quarter alone.
He threw for 340 yards in the big game and earned MVP honors.
The poll lists, in order from one to 10, Ovechkin, Johnson, Riggins, Darrell Green, Sammy Baugh, Hayes, Monk, Unseld, Sonny Jurgensen, and Sam Rice.
Selected first in the 2004 draft by the Capitals, Ovechkin won Rookie of the Year honors after his first season.