Conflict Resolution Training Curbs Violence
Metropolitan AME Hosts Panel on Non-Violence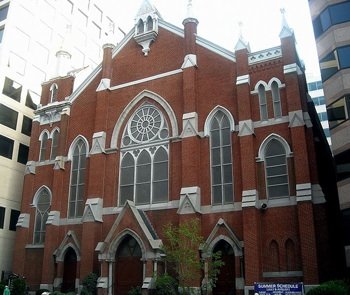 A panel of professionals who work with troubled youth agreed during a discussion on Thursday that the lack of well thought out approaches to resolving conflicts often lead to violent outcomes.
"We need to train [our young people] in conflict resolution [which includes] alternative thinking and peer remediation," said the Rev. David Young, associate judge for Baltimore City Circuit Court and pastor of Adams Chapel AME Church in Baltimore.
"The No. 1 source of children who are arrested are [in] schools where police are deployed," Young said, noting the prevalence of gangs and impoverished neighborhoods in Charm City where 10 juvenile homicides took place in 2012.
Other panelists for the hour-long discussion titled, "Applying Conflict Resolution Methods to Change Behavior" included Bishop T.C. Colwell-White of Calvary Faith Community Church in Olney, Md., and Marvin Johnson, executive director of the Center for Alternative Dispute Resolution in College Park, Md.
The discussion – which attracted about 150 people and focused on getting young people to refrain from violence – was sponsored by the District-based Black Women for Positive Change (BW4PC) and the national Summit Council.
The event, part of a daylong conference on Aug. 22 at the historic Metropolitan AME Church in downtown Washington, commemorated the countless number of youth whose lives have been cut short in recent years due to violence. Most notably among them are Trayvon Martin of Sanford, Fla., Hadiyah Pendelton of Chicago and Bijan Shoushtari of Los Angeles.
Johnson, whose center provides youth the support they need to become productive and engaged citizens, said that in many instances, conflict resolution fails because the focus is on the problem rather than people.
"But in order to solve [negative] behaviors we have to deal with people, the whole person," said Johnson. "We have to find out about the people [involved], because that's what caused the [issue]. We have to be able to connect with them in a place where they see reality."
Johnson explained that conflict resolution deals with the "what and why" in order to determine what can be done in solving issues.
"But most times, conflict resolution is a backward process that deals with the experience after it's occurred," Johnson said. "One must look upstream to see what caused the problem, however in doing so, there must be communication."
Studies state that among risk factors associated with violent-prone youth there exist a propensity for detachment due to various disruptions in their lives. As a result, many have difficulties connecting to caregivers who are compassionate and loving.
"Negative messages about [troubled youth] come from their environments and how they are valued and interact with others," Johnson said. "People always remember how [others] made them feel and this is important in connecting with young people," he said, adding that all youth want respect, recognition and acceptance.
Colwell-White, a BW4PC member, said that while there are many peace-making ministries in the D.C. region that are geared toward youth, there's still room for more such outreach.
Colwell-White, whose church engaged in a campaign to get District-area pastors to preach a sermon on non-violence in August and September, cited the flourishing peace-making ministry at First Baptist Church of Glenarden in Glenarden, Md.
She said however, that in following First Baptist's lead, it's imperative that church members, officers and pastors be properly trained.
"We [especially] have to have pastors who know the [juvenile justice] system and are willing to share how it works," said Colwell-White.
BW4PC national co-chair Stephanie Myers said the summit consisted of a cross-section of faith, business and community leaders, as well as parents and representatives of elected officials, who joined District Mayor Vincent Gray earlier this week to issue "Day of Non-Violence" proclamations in their respective cities and states.
"Feedback surrounding the [initiative] has been good," Myers said. "We [assembled] a lot of different minds from different backgrounds to ask them to put their collective genius together to talk about this issue of changing the culture of violence, and it's been [a successful endeavor]."