Were There Women Speakers at the '63 March on Washington?
Margaret Summers | 8/23/2013, 5:54 p.m.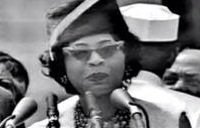 Although it has long been said that no woman addressed the 1963 March on Washington, there may have been three.
According to Women's Voices for Change, a website that honors the accomplishments of women who are middle aged and older, at least three women addressed the march: Josephine Baker, Rosa Parks, and Daisy Bates. Other websites say that Bates was the only female speaker, and that her remarks followed Dr. Martin Luther King, Jr.'s "I Have a Dream" speech. A transcript of the 1963 march program indicates that the event was to include a tribute to "Negro women fighters for freedom."
Among the listed speakers in addition to Bates were Myrlie Evers, widow of Mississippi civil rights activist Medgar Evers; Diane Nash Bevel, a leader and organizer of civil rights demonstrations in Tennessee; and Gloria Richardson, who organized and led civil rights demonstrations in Cambridge, Md.
Bates headed the Arkansas NAACP. She proved instrumental in organizing the young students who integrated Little Rock, Ark.'s Central High School in the mid-1950s.
During the "HerStory" event at the Hyatt Regency Capitol Hill Hotel on Thursday, Aug. 22, Angela Rye, co-founder and director of IMPACT, read Bates' 1963 March on Washington remarks:
"Mr. Randolph. Friends. The women of this country are pledged to you, to Martin Luther King, Roy Wilkins and all of you fighting for civil liberties, that we will join hands with you as women of this country. … Vice President Dorothy Height of the National Council of Negro Women and the Delta Sigma Theta Sorority, the Methodist Church women. All the women pledge that we will join hands with you. We will kneel in, we will sit in until we can eat in any corner in the United States. We will walk until we are free, until we can walk to any school and take our children to any school in the United States. And we will sit in and we will kneel in and we will lie in if necessary until every Negro in America can vote. This we pledge to the women of America."
Bates died in 1999 in Little Rock, Ark.