Road Closures Announced for March
8/23/2013, 6:25 p.m.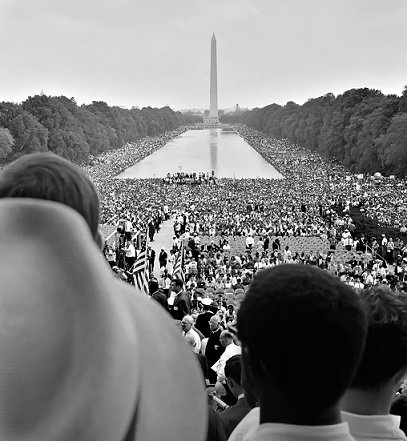 Washington D.C. – On Saturday, Aug. 24, the 50th Anniversary March on Washington Realize the Dream March & Rally will require the closure of numerous roads and monuments in Washington, D.C. Several ceremonies and services will take place at the Lincoln Memorial starting at 7:30 a.m. followed by a march that will step off around 12:30 p.m. For more information about the NPS programs visit (http:nps.gov/nama), for information about the rally and March, visit the organizer's website (http://nationalactionnetwork.net).
Public Access:
The public will be able to access the Rally only from walking west into the area of the Reflecting Pool from 17th Street by the World War II Memorial.
March Route:
After the rally the march will depart from Lincoln Memorial and head south on Daniel French Drive, east on Independence, north on 17th street, and will end and disperse on the Washington Monument grounds ADA Shuttles: The National Action Network will provide free shuttles from the Foggy Bottom Metro to the event venue for participants with mobility issues. Shuttles will drop off at Henry Bacon Drive and Lincoln Memorial. Every effort is being made to minimize traffic delays during this event. Variable message boards will be put in place to increase awareness of closures. Participants are encouraged to take public transportation and use Metro stations in downtown Washington, D.C. Please visit the Washington Metropolitan Area Transit Authority for more information on planning transportation (http://www.wmata.com).
Traffic/road closures:
The following road closures will go into effect at 5 am until the event concludes
• Buckeye Drive between the Southeast/Southwest Freeway and Ohio Drive on the Potomac River side
• Ohio Drive from Potomac Freeway to Parkway Drive
• Ohio Drive from exit of Hains Point to the Potomac Freeway to include A, B, and C Lots
• Rock Creek Parkway between Virginia Avenue and Parkway Drive
• Independence Avenue SW between 15th and 23rd Streets to include the Tidal Basin Parking Lot
• 15th and Maine Avenue to the merge at Independence Avenue
• 17th Street between Constitution Avenue and Independence Avenue
• Henry Bacon and 23rd Street
• Lincoln Memorial Circle
• West Basin Drive
• 5 a.m. – 6 p.m., the National Park Service (NPS), George Washington Memorial Parkway (GWMP) will close Arlington Memorial Bridge to vehicular traffic. Memorial Circle will remain open, unless it is necessary to close for pedestrian safety.
In addition to the National Park Service street closures, The Metropolitan Police Department will close the following streets beginning at 5 a.m. until approximately 4 p.m.:
• Westbound ramp from I-395 to Maine Avenue, SW-All traffic will be diverted to the 12th ST Tunnel
• Ramp from 9th Street tunnel to westbound Maine Avenue, SW-all traffic will be diverted to outbound I-395
• 1200 block Maiden Lane merge with Maine Avenue, SW-all traffic will be diverted to northbound 14th Street, SW
• Southbound Potomac River Freeway and ramp to Independence Avenue-traffic will be diverted to the outbound Theodore Roosevelt Bridge
• Ramp from outbound E Street Expressway to Ohio Drive-all traffic will be diverted to outbound Theodore Roosevelt Bridge