D.C. Residents Press for Statehood at Pre-March Rally
James Wright | 8/24/2013, 11 p.m. | Updated on 8/28/2013, 3 p.m.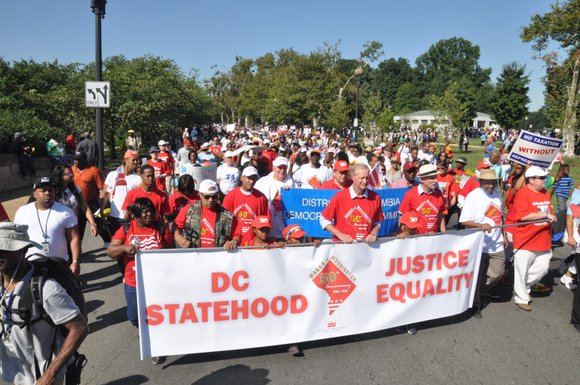 Hundreds of District residents attended an early morning rally leading up to the commemorative March on Washington to voice their outrage over their political rights being trampled upon and pledged to become far more proactive in their efforts to get a vote in the U.S. Congress and, ultimately, statehood.


District elected officials and residents participated in the rally which took place at the District of Columbia War Memorial in Southwest on Saturday, Aug. 24. D.C. Mayor Vincent Gray (D) shared his memories of the original March on Washington on Aug. 28, 1963 with the crowd.
"I was a young college student at George Washington University and I participated in the March on Washington," said Gray, 70. "It was an absolutely spine-tingling experience. How well I remember Dr. [Martin Luther] King, and his 'I Have a Dream' speech, appealing to Americans of all backgrounds to live up to their promises on which our country was founded – that all human beings are created equal, and that we deserve equal rights to life, liberty and the pursuit of happiness."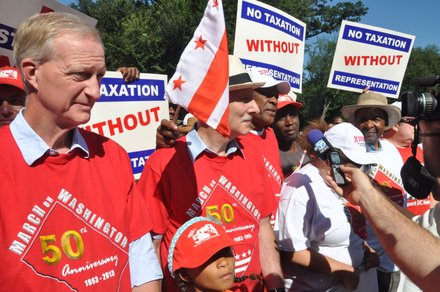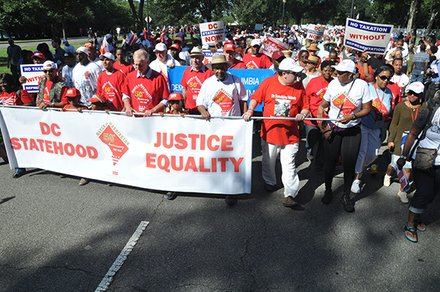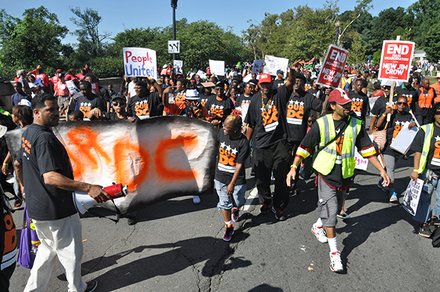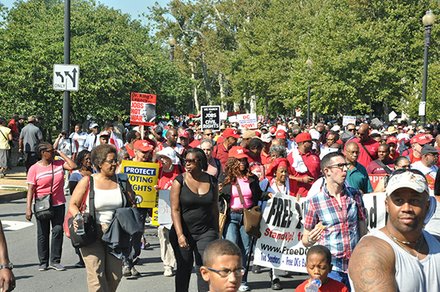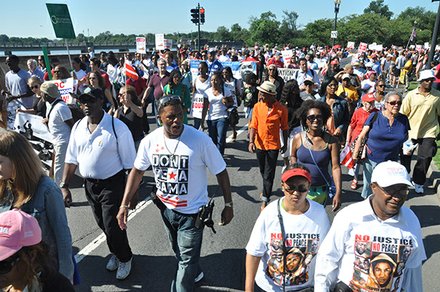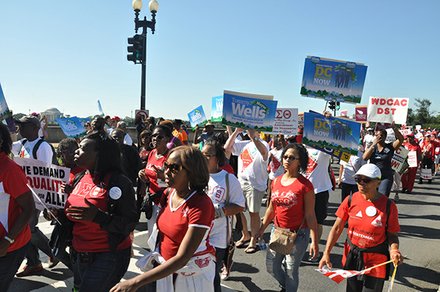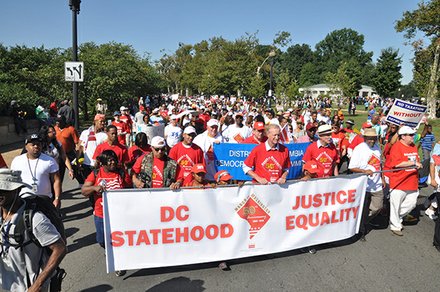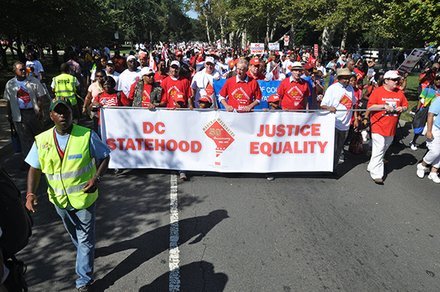 Many District residents participated in the 1963 march, demanding jobs and full-citizenship rights. They too, joined the ranks of the 250,000 who converged upon the Nation's Capital on a hot, summer day, 50 years ago. However, District residents had the extra burden of being American citizens who had no voice in their governance even though they paid federal taxes and could be drafted to fight in the country's wars.
District residents had barely received the right to vote in national elections, with the passage of the 23rd Amendment to the U.S. Constitution in 1961, when the famous march took place. District civic and political leaders at that time, with the support of King, called for self-governance for the city, and votes in both houses of the U.S. Congress.
D.C. Del. Eleanor Holmes Norton, the third person in the history of the District to represent the city on Capitol Hill, worked as one of the original organizers of the 1963 march. She said that many of the present-day marchers aren't aware of the District's political plight.
"We serve notice to those that are here that we have fewer rights than almost any other people who will march today," said Norton, 76. "We can no longer allow the deliberate denial of our rights."
Carl Roberts, a native of Arkansas who lives in Northeast, understands what the delegate is saying about many Americans who don't know that the District lacks voting representation and governing autonomy.
"I am not surprised when people don't know what is going on in D.C. because I travel to places like Chicago, Milwaukee and Tennessee and I talk about it and I get funny looks," said Roberts, a federal government employee. "People just don't know."
Anyone who happened to be near the rally site couldn't help but notice the large number of signs hoisted in the air demanding District statehood along with the sea of red and white T-shirts with messages calling for D.C. statehood emblazoned upon them. Even District residents who are active in the local chapters of national organizations donned pro-D.C. statehood T-shirts and carried signs to educate others about the hot-button issue.