D.C. Residents Press for Statehood at Pre-March Rally
James Wright | 8/24/2013, 11 p.m. | Updated on 8/28/2013, 3 p.m.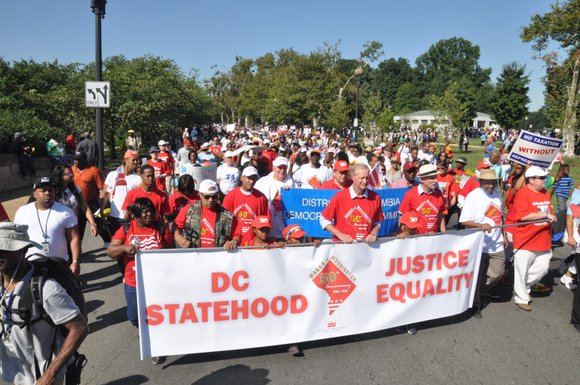 Vania Smith is the president of the Federal City Alumnae Chapter of Delta Sigma Theta Sorority, Inc. The Southeast resident attended the rally with more than 25 of her sorority sisters.
"Statehood is important to our members," said Smith, 37. "To us, D.C. statehood is a basic human right and it is important to us as Deltas because we participated in the first suffrage march for voting rights for women in 1913."
Nathan Simb, from Kribi, Cameroon, said that the District's fight for statehood resembles what happened in his country decades ago.
"While the civil rights movement was going on here in the United States, we were [fighting for freedom] from colonialism," said Simb, 54, who was visiting family in the United States. "The struggle goes on and the people of D.C. should fight for what is theirs." 
D.C. Council Chairman Phil Mendelson (D) discussed D.C. statehood and the need for a living wage in the District during the rally. In a show of support, the chairman's colleagues, who included D.C. Council members Jack Evans (D-Ward 2), Anita Bonds (D-At Large), Vincent Orange (D-At Large), Muriel Bowser (D-Ward 4) and Marion Barry (D-Ward 8) stood beside him.
DC Vote Executive Director Kimberly Perry said that it's time for District residents to make their feelings known on Capitol Hill.
"D.C. residents need to make a commitment to visit one member of Congress to inform them of our plight," said Perry, 43. "That way, if we keep on them, they will have to do something."
Former D.C. Council member Frank Smith helped to coordinate the D.C. statehood events. Smith, 70, led the crowd to the National Mall from the rally site in military formation to participate in the formal program that featured nationally-renowned speakers and entertainers.
While politics dominated the rally and the overall march to the National Mall, some residents who attended just wanted to be a part of an exciting event.
"I was here in 1963 at the march," said Zilla Wesley, 55. "I am happy to be here with my friend, Alice Davis, who is 90 years old – just to be a part of what's going on."