March on Washington 2013: Participants Share Sentiments
8/24/2013, 4:37 p.m.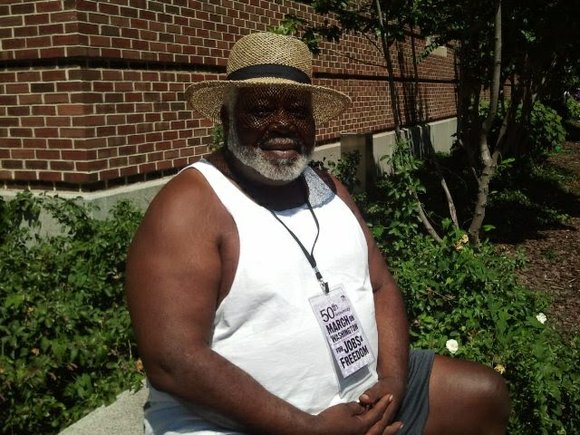 Carl Ridley, 68, Pittsburgh, Pa.:
I came to the march by bus with my two daughters because we have to keep the dream alive and let young people know what we had to go through in order to get the rights that they enjoy.
It took the government to get me a job back in 1965, and nowadays if you don't know somebody on the inside — regardless of what your resume says — it's all going to go back to hiring practices of 40 years ago. It's a shame, because there are a lot of good kids of all races who can't get a job, even with four years of college. So, Dr. King's dream is nowhere close to having been reached and we need to keep working on making it a full reality.
Chukwuma, 19, Brooklyn, N.Y.:
This gathering today is about respecting and acknowledging history. Many years ago, Dr. Martin Luther King Jr. changed not only the U.S., but the world with his 'I Have a Dream' speech. So for me, it was all about coming out to support his legacy. I feel like the march plays in perfectly with the death of Trayvon Martin because even though Dr. King made his speech 50 years ago, there's still a lot that we still have to change, and that includes protecting the civil rights of young black males. There are still too many atrocities that we, as black people, are not banning together to fight against.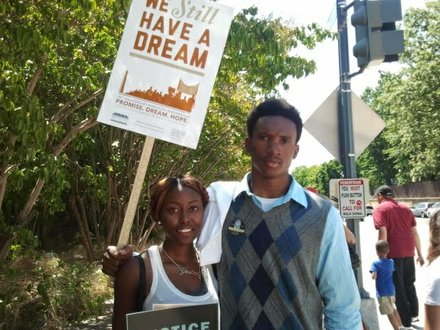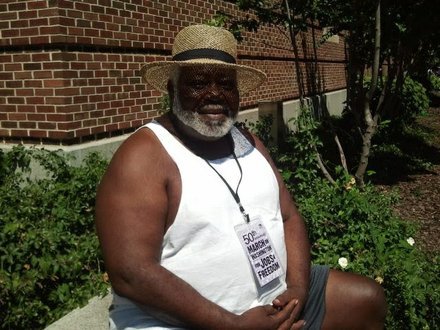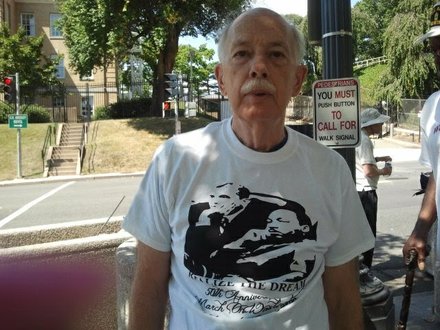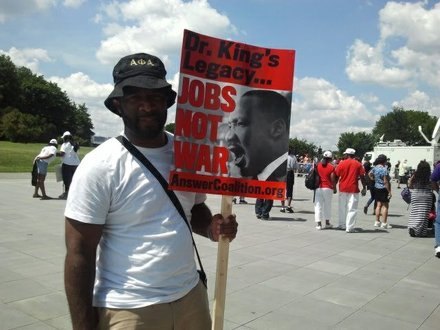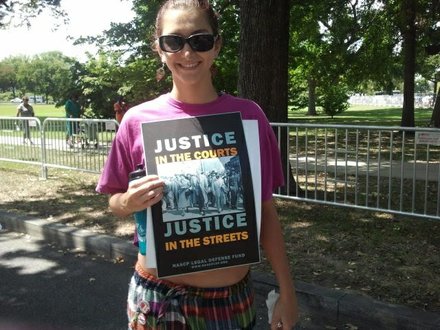 Hope Ajayi, 19, Washington, D.C.:
I feel really strongly about the fact that although Martin Luther King Jr. had a dream, a lot of people believe that it's been achieved. I just don't think that we're near or half way to the goal that he had in mind. The fact that we have a black president doesn't change a thing, and I think that the murder of Trayvon Martin shows that we have a lot of legalized discrimination going on, including segregation of schools and so many other issues that need to be addressed.
Wedder Burs, 72, Washington, D.C.:
Fifty years ago, I attended the original march and I felt very strongly about returning.
I come from a small town where there were hardly any blacks and they couldn't attend the public schools even after the Roe versus Wade decision.
So it's been super important for me to commemorate the 1963 march. I looked out at the audience today — just like I did 50 years ago — and I'm sure that the crowd is much larger today than it was in 1963.
As for Dr. King's dream being realized, no, that hasn't happened. We need a constitutional amendment that would say no state or federal law should be enacted that would in any way, deny any citizen eligible by age, the right to vote, period. The way I see it, any such laws currently in effect should be nullified.
Dave Gully, 26, Cleveland:
I came down because I wanted to be able to participate in something historical. Because of the different things I've seen happen to black people as I was growing up, I wanted to be part of the movement that's been going on since Dr. King's famous speech 50 years ago. I feel we have some room to grow since then. But we still need to take a stand on issues like voting rights that adversely affect black people.
Rachel Schwartz, 20, Arlington, Va.:
I came because I believe in equality and there are many things in our country that need change.
We need to come together and create change. I think we're so much closer to realizing Dr. King's dream. I wasn't around 50 years ago, but I see the world changing around me and many of the things I see occurring in our country are very shameful.
I think the verdict in the death of Trayvon Martin is heartbreaking. It's disgusting that his murderer didn't even get a manslaughter conviction. It's heartbreaking that young black males have to live in fear of being murdered without any consequences to the murderer.
Compiled by staff writer Dorothy Rowley