Old and New Invigorated by March on Washington
The Perfect Storm: Trayvon Martin, the Supreme Court, Voter Suppression
Barrington M. Salmon | 8/24/2013, 11 p.m. | Updated on 8/28/2013, 3 p.m.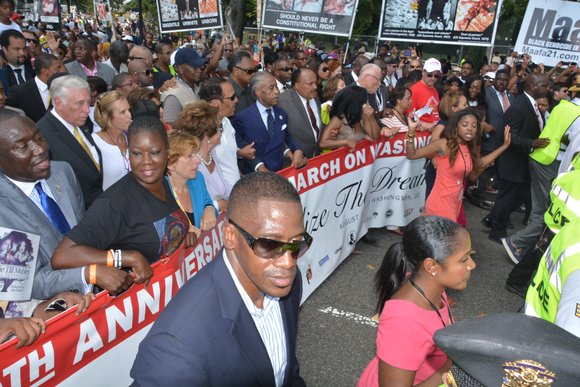 Vivian Somerville journeyed from Hyattsville, Al-Hajji Timbo traveled from Silver Spring, Carl Ridley bused in from Pittsburgh, while Phil Pearson drove from Sandusky, Ohio, and sisters Verlie McBroom and Lorraine Brown arrived in Washington. D.C., straight from the Lone Star State and the Land of Lincoln, respectively.
On the morning of Aug. 24, although they all originated from different compass points, they ended up in the same place: The National Mall to immerse themselves in the power, purpose and pageantry of the 50th anniversary of the March on Washington for Jobs and Freedom.
Fifty years ago, more than 250,000 marched to and gathered on the Mall in a show of force that at the time was the largest gathering of people in history in the nation's capital. Somerville, a retired teacher's assistant, was accompanied by her daughter and granddaughter.
"There are three generations of us here," she said proudly, as the trio walked along 17th Street NW. "I came out because I wanted to be a part of this memory. I won't be around for the 100th anniversary. This is important because of what Dr. Martin Luther King did for us. He and God brought us to where we are. I think most people understand his impact and what he did for black people."
From early Saturday morning, men, women and children streamed toward the Lincoln Memorial. By mid-afternoon, people clogged the paths leading to the monument in both directions. Enormous crowds spread out toward the Washington Monument, flowing like tributaries across large expanses of the Mall.
Edward Moseley remembers standing with more than 250,000 people at the 1963 march. Moseley, a retired U.S. Postal Service employee hired in 1962, said he was elated to be at the 50th anniversary commemoration.
"I had to be here," he said as he waited patiently to move while surrounded by a throng of people. "I grabbed my walking stick and I'll be out here as long as I can. Too many people died for me not to be here."
Moseley, 73, chuckled as he recalled his journey to the original march.
"They threatened us with the loss of our jobs if we came," he said. "I came anyway and it was one of the greatest things I'd ever seen. It was a glorious time, especially as I looked at people and the smiles on their faces."
For Mattie Rodgers Ashley, Saturday's march mirrored her participation in 1963.
"Fifty years ago, I was involved [in the march] and now I'm back here again," said Ashley, a pharmacist and lawyer from Houston. "They're trying to turn the clock back 50 years. The Republican Party is trying to strip us of our voting rights and everything else they can do. The United States can go over to other countries and tell them that they need to be a democracy but [the GOP] is steadily stripping our democracy. I just couldn't stand by and not participate because I'm seeing that 50 years turned back again.
"I just felt compelled," she said. "I intend to continue to work anyway that I possibly can. Just because we have a black president doesn't mean everything is better. We have a black U.S. Supreme Court Justice who is not in our corner. We cannot stand by. [The injustices] not only affect black people but American people."