Old and New Invigorated by March on Washington
The Perfect Storm: Trayvon Martin, the Supreme Court, Voter Suppression
Barrington M. Salmon | 8/24/2013, 11 p.m. | Updated on 8/28/2013, 3 p.m.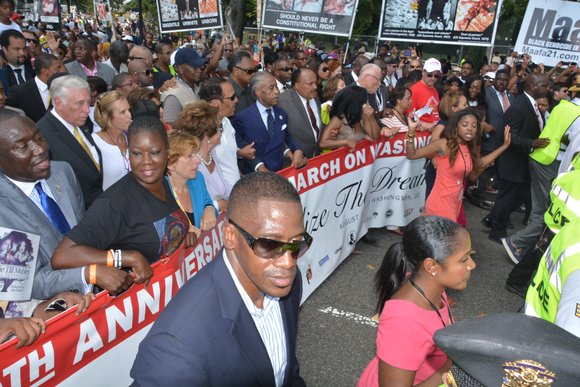 People carried posters, placards, banners and fliers supporting every conceivable cause, organization, and political, social and economic position. Union members proudly donned T-shirts emblazoned with their locals; some held long banners espousing fair wages, access to full-time jobs and an end to the Republican assault against organized labor; also on hand were anti-death penalty supporters, Socialists, Libertarians, those seeking D.C. statehood and advocates for women's reproductive rights and people with disabilities.
The daylong commemoration — co-sponsored by the National Action Network and Martin Luther King, III — brought speakers from an umbrella of entities, including the federal and local government, unions, environmental and civil rights groups and civic and social organizations.
Speakers included Newark Mayor and Senatorial candidate Cory Booker; Janet Murguia, president of the National Council of La Raza; civil rights activist Myrlie Evers-Williams; House Minority Leader Nancy Pelosi (D-Calif.); union leaders Lee Saunders and Randy Weingarten; The Rev. Al Sharpton; Trayvon Martin's parents, Tracy Martin and Sybrina Fulton; Jennifer Jones Austin of the Federation of Protestant Welfare Agencies; Marc Morial, president of the National Urban League; and NAACP President Benjamin Jealous.
Most said current circumstances demand a reimagined civil rights movement, amid calls for racial equality, better-paying jobs and equity in gender and sexual orientation.
U.S. Attorney General Eric Holder credited King and the movement with focusing on "a sacred and unmet promise" from America.
"Their march is now our march," he said. "Our focus has broadened to include the cause of women, of Latinos, of Asian-Americans, of lesbians, of gays, of people with disabilities and of countless others across this great country who still yearn for equality, opportunity and fair treatment as we recommit ourselves to the quest for justice."
Not far from the dais, Terri Marshall stood with arms on her waist listening intently to Martin Luther King III.
"I'm very moved because I was two [in 1963] but I heard about this all my life," said the 52-year-old Upper Marlboro resident. "There's electricity here. I've enjoyed meeting people from all over the country … this is history in the making.
"I think the Trayvon Martin verdict, the Supreme Court decision and other factors created the perfect storm," she continued. "It all came together and people felt that they needed to mobilize. People want to be heard. There's strength in numbers and there's a desire by people to be a part of something bigger. There's no way you could let this historic moment pass by."
Earlier, Robert Silverfarb and his close friend Bob Leventhal moved purposefully through the large crowd on a path leading to the Lincoln Memorial. Loaded down with folding chairs, Silverfarb leaned on Leventhal for a moment and joked about being winded by the trek to find a suitable spot.
"Oh, I couldn't miss this," said Silverfarb, 76, originally from the Bronx and a Rockville, Md., resident. "I'm alive to see this and the need is still there, probably more than it ever was.
"It was big in 1963," he said. "Anyone who cared about civil rights was here — all races and ages. It was friendly, warm and festive."