Gospel Brunch Celebrates King, March on Washington
Margaret Summers | 8/25/2013, 7:51 p.m. | Updated on 8/28/2013, 3 p.m.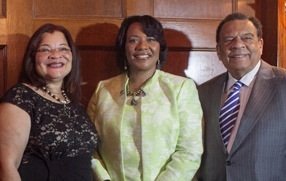 Washington, D.C.'s Willard InterContinental Hotel at 14th and Pennsylvania Avenues in Northwest played a pivotal part in civil rights history. It was there that Martin Luther King, Jr. wrote his timeless "I Have a Dream" speech which galvanized more than 200,000 civil rights marchers at the Lincoln Memorial on Aug. 28, 1963.
"I was just five months old at that particular time," joked The Reverend Bernice King, 50, Martin Luther King, Jr.'s youngest child. She recently addressed an audience of nearly 200 at a gospel brunch in the Willard InterContinental Hotel's Grand Ballroom. The event honored her father and the 50th anniversary of the March on Washington. "When he gave the speech that afternoon I was probably asleep."
Traditional African-American gospel songs and spirituals were sung by demonstrators in Southern states to alleviate fear as they were beaten by police and dragged to jails for protesting segregation in voting, education, housing and public accommodations. They were also sung during protest organizing meetings. Demonstrators changed the lyrics to reflect their situation.
During the gospel brunch, former United States Ambassador to the United Nations Andrew Young, 81, a "lieutenant" of King's in his Southern Christian Leadership Conference organization, led the audience in a civil rights spiritual, "Woke up This Morning with My Mind Stayed on Freedom."

"Fifty years ago, things were so bad in Birmingham, Alabama, that Reverend Fred Shuttlesworth asked Dr. King to come into Birmingham, and instead of just passively resisting with nonviolence to aggressively confront segregation," Young said.
"I was very much surprised, because Dr. King used to say that you had to be certifiably insane to even think of doing something (that dangerous), and I knew Dr. King wasn't insane," Young said. "Fred's church had been bombed for the third time by December 1962."
Young said that all too often, incidents like fire bombings of Southern African-American churches weren't reported by the national news media. "Dr. King knew the only way he could call attention to these incidents was to put his own life on the line."
Dr. King always said that the way to become a man is to overcome the love of wealth and the fear of death, Young recalled. "Everyone's always asking us (during this March on Washington commemoration week) about how far we've come, what's wrong, and don't we have this and that. But it doesn't matter because –'' and Young launched into another spiritual, "I've got a feeling, everything's going to be all right."
Prior to the brunch, Young told The Informer that the 1963 March on Washington stemmed from protests "fermenting" throughout the South. "There was more of a crisis mode 50 years ago. The March on Washington commemoration is more of a celebration, celebrating that we survived this long, celebrating the Martin Luther King memorial sculpture. But there are still members of his family and people in the struggle who are trying to fulfill his dream."
"We're in a crisis now, but back then we always looked at a crisis as an opportunity for change. That's what I think is going to happen with this commemoration. We will always be in a crisis and there will always be martyrs. I don't think of death as an end or a tragedy, I think of death as a blessing. I think of the people murdered in the civil rights struggle as martyrs whose time had come, and who had given their lives to awaken the rest of us," he said.
The gospel portion of the brunch focused on songs that were King's favorites. The Washington, D.C.-based Voices of Worship Choir and Inspirational Jazz Ensemble, led by Felicia Kessel-Crawley, a former music theory instructor at the Duke Ellington School of the Arts, performed several selections, including "Precious Lord, Take My Hand," "Motherless Child," "Nobody Knows the Trouble I've Seen" and "If I Can Help Somebody."
Internationally renowned mezzo-soprano Denyce Graves of Washington, D.C. opened her three-song performance with "Ev'ry Time I Feel the Spirit." "I thought I'd begin with a toe-tapper," she said.
"I was fortunate to grow up in a household where there was music," said Graves, 49. "I grew up to voices like (gospel artist) Mahalia Jackson's."
Graves also sang the spiritual "Deep River," and the song "Let There Be Peace on Earth."
"When I was deciding what to sing today, I thought of this song because Dr. King was always speaking about peace," she said.