The Willard to Host MLK Wax Statue
Civil Rights Champion Spent Night at Historic Hotel
8/25/2013, 12:53 a.m.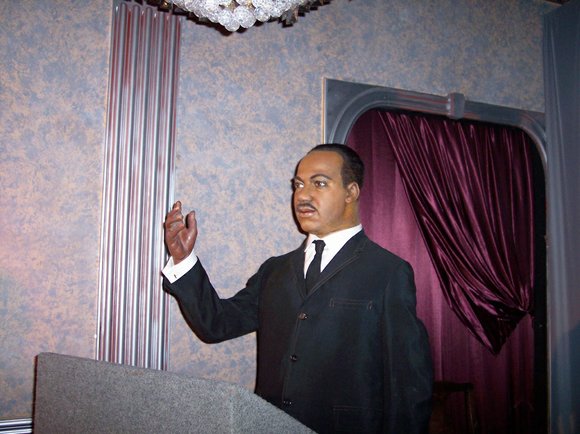 Upon completing his famous "I Have a Dream" speech, Martin Luther King Jr. retired for the evening at the Willard InterContinental Hotel on Pennsylvania Avenue in Northwest D.C.
Now, 50 years after King's historic words reverberated throughout the collective conscience of the country, and sent chills up and down the spines of the hundreds of thousands who listened to the electrifying sermon at the Lincoln Memorial, a wax figure of the civil rights icon will be showcased in the opulent main lobby of the Crown Jewel of Washington hotels.

On loan from the renowned Madame Tussauds Museum, the life-sized wax replica of King donning a Navy blue suit with a crisp white shirt and tie arrived at the famous hotel on Friday, Aug. 23. Hotel officials said they plan to display the sculpture through Monday, Aug. 26.
"It's the perfect addition to a weekend in which all you are hearing about is King," said Stacey Randolph, who owns an upscale clothing boutique in Northwest. "I've been to Madame Tussauds and I have seen many of the sculptures and the one of King is definitely outstanding," said Randolph, 53.
Senior management at the acclaimed museum in Northwest, which boasts sculptures of Oprah Winfrey, Marilyn Monroe, Michael Jackson and crooner Frank Sinatra, said they're humbled by the opportunity to participate in this memorable occasion.
"It's an honor for Madame Tussauds of D.C. to be a part of the historic 50th anniversary celebration of Dr. King's famous 'I Have a Dream' speech at the Willard Intercontinental," said Dan Rogoski, general manager for Madame Tussauds of D.C. "We invite guests this weekend to interact with Dr. King's figure and celebrate this monumental time in our city and nation."
A Willard spokesperson said that although the sculpture arrived early, it will officially be unveiled Sunday, Aug. 25 as part of the District-wide celebration marking the 50th anniversary of the March on Washington for Jobs and Freedom.
"Apparently, they are going to do it in style," said Cynthia Jackson, a Southeast resident who said she tried to book a room at the Willard for the weekend but the hotel had nothing available. "I just wanted to feel and imagine what King felt and what his thoughts were when he stayed there," said Jackson, 61. "There is so much history at that place and all over D.C."
The destination for the world's power brokers plans to host its first ever gospel brunch this morning with opera superstar Denyce Graves, who hails from Southeast Washington, D.C.
Graves attended the Duke Ellington School for the Performing Arts before continuing her education at Oberlin College Conservatory of Music in Oberlin, Ohio, and the New England Conservatory of Music in Boston, Mass.
She's performed all over the world, including on the stages of leading theaters in North America, Europe and Asia. She's also performed on the steps of the Lincoln Memorial.
Graves, who's appeared in numerous operas alongside Andrea Bocelli, Charles Dutoit, and Riccardo Chailly, has amassed numerous awards and honors throughout her career, including the Eleanor Steber Music Award in the Opera Vocal Competition, and a Jacobson Study Grant from the Richard Tucker Music Foundation.