The Willard to Host MLK Wax Statue
Civil Rights Champion Spent Night at Historic Hotel
8/25/2013, 12:53 a.m.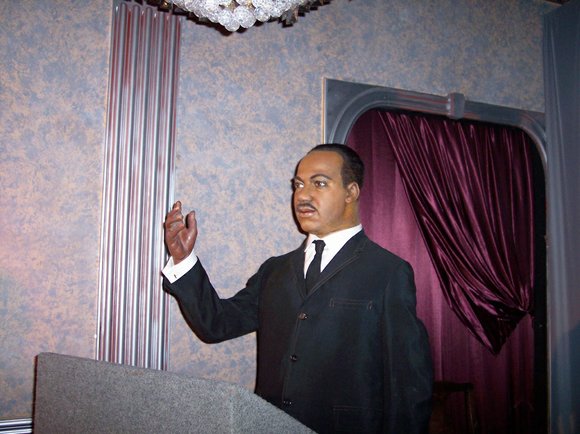 Graves' albums and CD's include duets and backing vocals by poet Maya Angelou, music legend Dionne Warwick, R&B divas En Vogue, soul singer Patti LaBelle, and others.
"I'm honored to be a part of this event," Graves said. "King was one of our greatest American activists, and nothing is more iconic than his speech."
Graves, 49, said she plans to sing, "Let There Be Peace on Earth," because the song blends well with the celebration taking place in and around the District. "I'm just excited that I have been given this honor," she said.
Officials at the Willard, count among its famous guests, author and social critic Charles Dickens, American showman P.T. Barnum, author and humorist Mark Twain and countless other luminaries.

Former U.S. Ambassador to the United Nations Andrew Young, King's daughter, Bernice King, his niece, Alveda King, and other family members are expected to attend the gospel brunch in the hotel's Grand Ballroom.
Additionally, music that inspired King will be performed by Felicia Kessel-Crawley's Voices of Worship Choir and Jazz Ensemble. The program will also include an introduction to King's famous speech and a rendition of the "Battle Hymn of the Republic," which poet Julia Ward Howe penned at the Willard in 1861.
Other highlights of the brunch include a sparkling wine reception with a Jazz Ensemble, and a spectacular Southern-style buffet. Guests will also receive a commemorative King keepsake.
During the brunch, hotel officials will host a silent auction to benefit the Martin Luther King Center for Nonviolent Social Change, the living memorial dedicated to advancing the late civil rights leader's legacy in Atlanta, Ga.
Those in attendance will be able to bid on more than 15 items, including a weekend getaway to destinations such as New York, Los Angeles, Chicago, the Caribbean, Europe, Asia and other locales. A copy of the book, "Martin Luther King Jr.: A King Family Tribute," signed by members of the King family will also be up for bid.
Tickets are $132 for the 11 a.m. gospel brunch featuring Denyce Graves. Reservations are encouraged. For tickets or further information, call 202-628-9100.