'63 March Attracted 'Sea' of Participants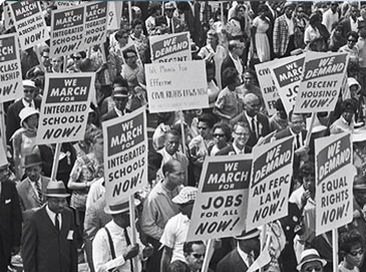 Aug. 28, 1963 was a hot and muggy day in the nation's capital.
But that didn't stop the throngs of people who traveled from near and far for participation in the historic March on Washington.
Among the long list of prolific orators were Dr. Martin Luther King Jr., who delivered his famous "I Have a Dream" speech, and members of the "Big Six," who helped organize the March which attracted between 200,000 and 300,000 people from as far south as Florida, Louisiana and Mississippi, and west from California, east to New York and countries around the globe.
However, "There was no female principal speaker, just some introductions, although there were many women in the forefront of the Civil Rights Movement," A.W. Rollins of Knoxville, Tenn., stated in a 2008 account of the March. "[Ella] Baker, who helped Dr. King organize the Southern Christian Leadership Conference, would have made a good principal speaker. [But that] was an oversight by the leadership in not including at least one prominent female [speaker], especially since so many women were participating in the movement, providing leadership, getting beaten, going to jail."
Meanwhile, the marchers, who had traveled to the District by rail, road and air to peacefully demonstrate their causes, donned T-shirts, hats, buttons and waved signs that implored change for a nation of blacks who were continually being victimized by injustice and inequality.
While between 75 and 100 members of Congress attended, about 60,000 white people were reported among the history-making crowd.
A slate of political luminaries and celebrities also joined the marchers, whose diverse range of occupations included sanitation workers, truck drivers, maids, cooks, preachers and teachers. The crowd included Dick Gregory, Harry Belafonte, Jackie Robinson, Rosa Parks, Sammy Davis Jr., the reverends Jesse Jackson Walter Fauntroy, Fannie Lou Hammer, Dorothy Height, Bob Dylan, Marian Anderson, Mahalia Jackson, Joan Baez and Charlton Heston.
"Early that morning, I loaded my family into the car for the two-hour drive, and when we got there, I was overcome with emotion," said Eddie Radden Jr., 85, who has remained a staunch activist, championing for better schools and other public facilities in his Southside community of Richmond, Va.,
"There was a sea of people on the Mall that day. I came face to face with Jackie Robinson and his son, Wilt Chamberlain and Harry Belafonte. The speakers were captivating – it's something I can never forget," said Radden, who's served since 2000 as an attendant for lawmakers at the Virginia State capitol building during General Assembly sessions.