BOOK REVIEW: 'With Eyes from Both Sides: Living My Life In and Out of the Game' by Thelma Wright
Brad Berkwitt | 8/26/2013, 6:07 p.m.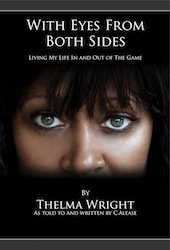 Anyone that really knows me knows I am a huge fan of Frank Sinatra's music and his ability to embody a lyric that is, simply put, magical.
Why do I mention this? Because I have always felt that writers can also embody the words they write in books. This certainly applies to Thelma Wright and her first book, "With Eyes from Both Sides: Living My Life In and Out of the Game."
Before I get into my full review, let me tell you how I came to find out about and eventually meet Thelma, who I also call "Green Eyes" (Check the book's cover to see why). Recently, I was watching the fights on HBO, but they were boring and I began channel surfing. I came across a show on the Biography Channel called "Gangsters: America's Most Evil," featuring Philadelphia's "Gangster Queen," Thelma Wright. The story was very captivating and I was turning between channels during commercials for it, but finally, gave up on the fights and stuck with Thelma's story.
And what a story she has. As I always do, if a story piques my interest, I hit Google to find out more. I learned that Thelma had a website, so I shot her an email about getting a press copy of her book to review. She personally emailed me back and was very professional about sending a copy right away.
She, too, as it turns out, loves boxing, but told me her story would be much more interesting. The jury was still out on that — until I read her tome.
Her story starts in Philly back in the late 1950s, with a loving parents and a large family. A self-described "tomboy," Thelma went to Catholic school and excelled in sports.
As the years rolled by, the tomboy became a woman who enjoyed life and would meet a big-time drug dealer named Jackie Wright, who would take her to the highest of highs and lowest of lows, or, as she called it, "crazy love."
Jackie would give her attention and lots of love, but a few years into the relationship, he shot her in the leg on her birthday when she confronted him about not spending the day with her.
End of story, right? For most, sure, but not Thelma. The two would eventually marry and she would give birth to a son before Jackie was killed in 1986. Thelma stepped in and ran the drug business, doing very well.
Many would ask, how did a Catholic girl from a loving family get involved in the drug trade? Read the book and find out! I finished it in one sitting and it's a very well-written, easy read. My biggest concern about a book that is based on a true story, is how well that story is told and whether it paints a picture for me, and this one definitely does both.
Throughout the book "With Eyes From Both Sides," both my eyes were wide open and could not wait to get to the next chapter. Bravo to Thelma Wright and her writer, C. Alease.
Follow Thelma on Twitter @ThelmaBWright and on Facebook at www.facebook.com/thelmabwright.