COMMENTARY: Parents on Sports Sidelines Should Know Their Roles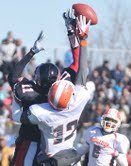 As we approach the upcoming fall sports season, the sidelines will again be filled with supportive — and often vocal — parents.
More than half of our local children participate in organized athletics. Sports provide an excellent path to building a child's confidence, and strengthening their character and fitness level. In a society where nearly 20 percent of children are not just overweight but obese, it's no surprise that parents choose competitive sports as a way to keep their kids active and healthy.
But things sometimes become toxic on the sidelines, largely due to today's youth sports arena in which parents have invested a great deal. Some bank on their child's talent as a great way to gain an edge on college applications or get a reduced price on tuition. Others rely on athletics to garner community friends or to increase the chances of their child's peer acceptance. Parents also may see the benefits of discipline, enjoyment and camaraderie a child receives as a result of being part of a team. In addition, they hope to build a lifestyle of fitness and physical activity for their kid.
However, even well-meaning parents' investment in their child's sports sometimes devolves into an overrated stake in the child's success instead of balanced support for a kid's healthy development.
The image of "football dads" and the like engaging in fistfights is the most visceral example, but there's other more subliminal signs of misplaced parental priorities.
There's the parents who were athletic in their youth that push their children to carry on their outstanding legacy. Inversely, there's not-so-athletic parents that pine for their children to succeed in sports where they didn't. Both types would serve their children better by encouraging them to "give their best," rather than pressure them to "be the best."
Overprotective parents may become vocal, obnoxious objectors, complaining about the coaches, the referees or other players. Other parents may attempt to "coach" from the sidelines, consistently and loudly, causing an internal tug-of-war for their child. Does the player listen to the coach, or their screaming parent?
I suggest that parents keep their sense of competition in check, not allowing it to become larger than their child's. Parents should be noticed on the sidelines only because they are cheering loudly for their child's entire team — and not just their kid. Parents should remember that they represent their children, their athletic organizations and their communities. It is imperative that they do all they can to ensure that their behavior be nothing short of excellent.