Trillectro Takes over D.C.
Brittney Palmer, Special to The Informer | 8/26/2013, 2:48 a.m.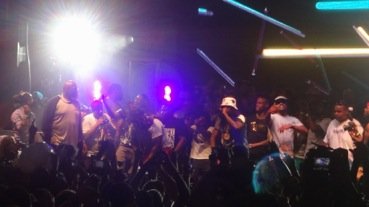 The Trillectro Music Festival rolled through D.C. on Saturday for the second year in a row with a heavy-hitting lineup, attracting thousands of DMV music lovers.
The festival lived up to its promise to bridge the gap between the rap and electronic music genres. The atmosphere was great as beach balls flew around the crowd and patrons enjoyed food and drinks. There was even a live art session nestled in the back of the fairgrounds, featuring some talented local artists who gave away their works afterward via social media outlets such as Instagram and Twitter.
But it was all about the music. Franceleslia held it down on the Karmaloop stage with Tittsworth, Salva, DJ Sliink and a slew of others, while Low Key and Ashley Outrageous took to the main stage.
The first act to hit the main stage was College Park, Md., funk band New Retro. D.C.'s own Shy Glizzy and Phil Ade also performed on the main stage and kept the audience hype.
Other acts included Ghost Beach and Casey Veggies who brought out R&B singer Raheem DeVaughn, A$AP Ferg, Atlanta's Two-9 and Travi$ Scott, whose performance was cut short amid security trouble.
With all of those amazing performances, Trillectro still had one last ace up its sleeve — special guest Wale, who hit the stage and surprised fans with an appearance from his longtime friend and fellow rapper Fat Trel.
Wale played a woefully short set of some of his earlier material, explaining that contractual differences was the reason for his truncated performance. Before leaving the stage, he performed newer hits "Bad" and "Clappers to the Front."