BUSINESS EXCHANGE: Republicans Goin' Black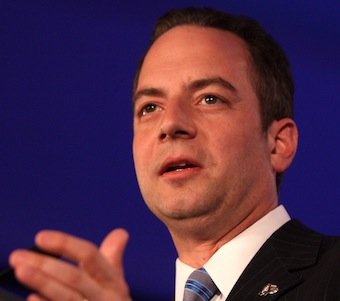 Republican National Committee (RNC) Chairman Reince Priebus inherited a simple mission: stop inflaming racism and expand the voter base beyond White, male America. Like so many Republicans before him, Priebus repeatedly gets in his own way in his attempts to appeal to Blacks and other minority groups.
Over the months since the Democrats' decisive electoral victories among Blacks, Hispanics and Asian Americans, officials at the RNC have talked a lot about engaging the country's different and more diverse communities. At their Boston summer meeting session the Republicans declared that "engaging youth and building the party at the grassroots level is key" to the party's successes toward 2016. The RNC's latest effort to sell itself is a plan to showcase the diversity in the GOP ranks. The Rising Stars initiative highlights the next generation of Republicans: a group of activists, authors, elected officials and candidates who combat the GOP's "old boy" image.
In its initiative, the RNC's publicity professionals will be shining a spotlight on its younger, minority up-and-comers every three months. The first batch of Rising Stars includes T.W. Shannon, Oklahoma's first African-American Speaker of the House and a protégé of former Rep. J.C. Watts. The RNC plans to thrust Black Republicans like Shannon into the limelight.
To grow and expand the party among Blacks, don't forget that "it's the economy."  Despite woeful, to no, economic gains under Democratic political leadership, African Americans have allowed themselves, and their issues, to be dumbed down to accept mediocre governance. The last 40 years, the Black vote has gone so overwhelmingly for Democrats that the GOP has never invested much effort in trying to capture it. In what Priebus says is "an unprecedented effort", the RNC is putting money and muscle into getting more African Americans to vote Republican. The RNC just hired 150 field staffers "to help court new voters." 
Throughout the spring and summer of 2013, Priebus and a core group of Republicans, lurched from convention-to-convention in a kind of "rock star" procession seeking "grip-and-grin" photo-ops with notable Blacks. What he needs to do now is move out of the picture, replacing himself with strategic "outreach" professionals and techniques "to effectively spread the word" specifically, among African Americans.
Some say Preibus should spend his money elsewhere and think that the Republican Party faces an impossible task adding Blacks to their ranks. With targeted efforts, the RNC can easily capture 30 percent of the Black vote by 2016. Party leaders can't second guess themselves and they must continue to provide the resources necessary for the outreach to be successful. The Republicans have to deliver messages among African Americans that explain to them why the GOP's world view is in their best interest.
The Republicans need to project images and an agenda that Blacks can relate to. In order to be effective, the party needs to provide the Black outreach team the budget and autonomy they to need to set up networks that allow them to consistently engage African Americans through their media, about their issues. In addition to the field representatives Priebus announced in Boston, the RNC headquarters outreach team includes Amani Council, director of the RNC's African-American Communications, Kristal Quarker-Hartsfield, who heads up the political arm; and Raffi Williams, whose focus is the youth vote.  
Priebus says the RNC expects the staffers they recently hired to live and work in minority communities and pitch Republican values. Between the headquarters' crew and field representatives, Republicans should be putting forth issues that Blacks truly care about, and through new technology and local news outlets to "meet them [Blacks] where they are."  
Republicans can take a page from companies that target and develop the African-American consumer market. It's time Priebus & Company allow their "Black outreach" team the full reign they need to effectively sell the Republican message, convene conferences, and be a resource on Republican ideals, and assemble and conduct political education among African Americans that touts: strong families, faith in God, personal responsibility and equal economic opportunities.
William Reed is publisher of "Who's Who in Black Corporate America" and available for projects via the BaileyGroup.org.