DCPS Rolls Out New Programs, Objectives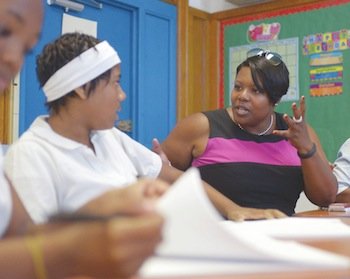 The first day back to school has traditionally been an exciting time for students and their parents. But the day can be doubly exciting when they along with their schools' faculty and staff are surprised with a visit from the chancellor.
That's exactly what happened on Monday, when District of Columbia Public Schools (DCPS) Chancellor Kaya Henderson made it a point to visit several schools, as students eagerly embarked on the beginning of a year marked with the promise of better learning environments and resources.
"It's the first day of school and I have my hand on the pulse of what's going on in the District, and so far, this is the fifth school I've visited this morning," said an enthusiastic Henderson during a tour at Kramer Middle School in Southeast. "Being at the schools on the first day is important because everyone from the custodians all the way up to the chancellor wants to show that we're mirroring the energy and excitement that parents and children bring," Henderson, 43, said. "It's kind of a 'yes we can' spirit. If they have to be here on the first day, it's important for me to be [in their schools] on the first day, too."
Henderson said however, that she's pleased that DCPS's 45,000 students are back in classes at 111 buildings, ready to learn from more than 4,100 teachers – of which 500 are new–who are ready to teach, in brand new classrooms, with expanded programs and additional resources to buttress upgraded curricular and technological enhancements that cost approximately $5 million.
The new school year will hinge on a lot more than involving students in extracurricular programs and encouraging them to ace standardized tests.
"We want students to be in control of their learning, where they can progress as fast as they need to, and can get remediation if they need to," said Mark King, Cluster 7 instructional superintendent. "I think that what's really critical is their ability to think – it's not so much as what they know, as what they can do with what they know."
Other new projects and amenities poised to guide students and teachers toward a brighter academic year, include multi-million-dollar facelifts to Dunbar and Cardozo senior high schools in Northwest, and completed libraries at 45 elementary schools and education campuses.
In addition, on Aug. 26, eight high schools launched ninth-grade academies to support and provide resources for first-time freshmen.
Parents like Shawn Alford, who lives in Southeast, voiced what they expected in terms of their children's learning, particularly now that more than 2,000 students are getting used to different buildings.
"Because they've closed the school my daughter attended, as well as others all over the city, they're going to need more teachers and more security," said Alford, 39. "So, I'm just expecting that [school officials] are going to be doing their best to provide for our kids," she said. "The programs at my daughter's previous school aren't offered at too many other schools, including Kramer, where she is now," Alford continued, adding that nevertheless, she finds Kramer to be one of the better schools in Ward 7.
"And for that reason – despite my earlier concerns over having to [uproot] her – I'm pretty much pleased that she's going to be at Kramer."
However, in allaying parents' fears of uncertainty aligned with her ongoing stronghold toward school reform, Henderson said she feels they have come to terms with the mandate she finalized in January of this year.
"Some of the parents chose to [wait to] enroll their kids," said Henderson. "The principal at Kramer told me that he got 98 percent of his enrollment, but two weeks ago that wasn't the case," Henderson said. "So we'll check our numbers at the end of the week and see where we fall. While I'm sure that in some cases, we won't get everybody, I think we [still] got a pretty solid retention."