Obama, King Family, Celebs Observe March Anniversary
President: U.S. Has 'Unfinished Business' to Fulfill MLK's Dream
Barrington M. Salmon | 8/28/2013, 8:15 p.m. | Updated on 8/29/2013, 10:52 a.m.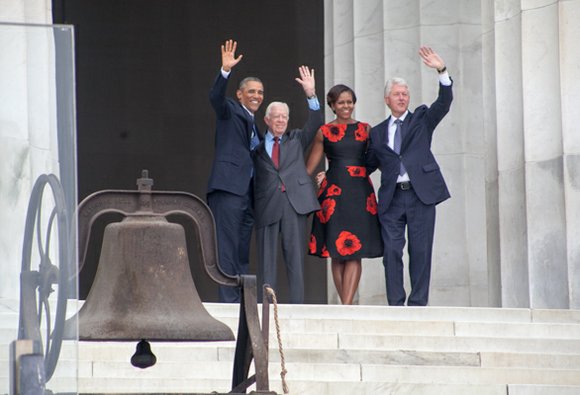 Obama, even as he honored the civil rights giants of old, threw down the gauntlet, challenging a new generation to complete King's dream.
"In 1963 … a full century after a great war was fought and emancipation proclaimed, that promise — those truths — remained unmet. And so they came by the thousands from every corner of our country, men and women, young and old, blacks who longed for freedom and whites who could no longer accept freedom for themselves while witnessing the subjugation of others."
"Across the land, congregations sent them off with food and with prayer. In the middle of the night, entire blocks of Harlem came out to wish them well.  With the few dollars they scrimped from their labor, some bought tickets and boarded buses, even if they couldn't always sit where they wanted to sit.  Those with less money hitchhiked or walked.  They were seamstresses and steelworkers, students and teachers, maids and Pullman porters.  They shared simple meals and bunked together on floors.  And then, on a hot summer day, they assembled here, in our Nation's Capital, under the shadow of the Great Emancipator — to offer testimony of injustice, to petition their government for redress, and to awaken America's long-slumbering conscience."
Castro, 38, the only Latino lawmaker to speak at the event, said young people are ready.
"I believe events like this renew the spirit of the younger generation," he said minutes after addressing the crowd. "You'll never recreate 50 years ago, but there's a new energy. We have new tools, technology and social media developed by Gen X'ers and the Millennials, which allow for organization and action."
One of the most poignant moments occurred at about 3 p.m., when members of the King family pealed the bell that used to hang in the 16th Street Baptist Church in Birmingham, Ala., where a bomb planted by white supremacists killed four little black girls months after the March on Washington.
Obama acknowledged standing on hallowed ground and praised King and those in the movement who refused to bow to racism and discrimination.
"And because they kept marching, America changed.  Because they marched, a Civil Rights law was passed.  Because they marched, a Voting Rights law was signed," he said. "Because they marched, doors of opportunity and education swung open so their daughters and sons could finally imagine a life for themselves beyond washing somebody else's laundry or shining somebody else's shoes. Because they marched, city councils changed and state legislatures changed, and Congress changed, and, yes, eventually, the White House changed."
Alexandria, Va., resident Sharon Hennessee said it was a no-brainer to be at the commemoration.
"I came out to be part of history and see what the action plan is to move forward," she said. "Fifty years ago, it was 'Action,' now, it's 'Action Now.' I wanted to hear how people plan to pull us together. I'm encouraged that this many people would come together for this cause and be willing to listen."
"When we stop drawing crowds, there'll be no opportunity to change," said Hennessee, 52, who works at Fedex's Government Sales Office.