THE RELIGION CORNER: Fix it by Faith!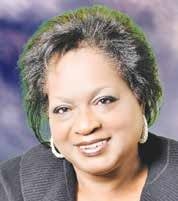 The 50th Anniversary of the March on Washington is over, and we had a record-breaking crowd; none of us could have imagined that so many people would travel from around the world to join in the 50th anniversary celebration. We can now get back to living our lives again.
This week, I'm writing about "faith" as a reminder that nothing happens without absolute faith. It's as if a tiny flame burns within you, and the angels, and Holy Spirit can see and feel the light, together they increase your flame; similar to the burning bush story in the Bible.
Let me share my own personal story. Over the past year or two, I've been expecting a telephone call to come from somewhere; my inner knowing showed me that my life would be changed. I thought about the possibility weekly, and knew the call would come, without a shadow of doubt. That's how faith works.

One call did finally come this summer, totally unexpected, it was from former D.C. Council member Frank Smith, telling me that Mayor Vincent Gray had appointed him to serve as the chairman of the DC Host Committee for the 50th Anniversary March on Washington, and because we had worked together for so many years on his African American Civil War Memorial project, he knew my capabilities, and my work ethic. He called to ask if I would come onboard to help him. I said yes, of course, but at that time, I had no idea how much work would be involved. An enjoyable project!

My skills were challenged, even with my top-notch experience having worked for U.S. Presidential Inaugurations, serving the Washington D.C. community for more than 25 years; quick, tedious projects are the norm for me. This project, however, had new twists; three consecutive weekly press conferences, challenging, yet the work got done, and successfully.
This may not have been the "big" call that I was expecting, but it certainly did allow me to meet more people, and reconnect with the political arena of the District of Columbia. Whether my life will change afterward, only God knows, but what a wonderful experience. This project reflects my faith. It brought to life my expectation that my phone would ring someday, with something exciting for me to do. And there's still much more to come. We don't get dreams and visions of our future haphazardly. They come directly from the Holy Spirit.
Scripture tells us "faith is the substance of things hoped for and it is the evidence of things not seen," and "In all your ways you shall acknowledge Him, and He will direct your path." The Heavenly Father will be there for you like that burning bush, and will never burn out; He will be there showing you the trail; the pathway will open up for you, just like the Red Sea opened up for Moses when he was ordered to save his people from Pharaoh. The Israelites crossed the sea on dry ground, with a wall of water on their right and on their left. 
Go for your dreams, you will be protected along the way and do things you've never done; miraculous things will begin to occur in your life. You wouldn't have had that vision if it wasn't meant for you to achieve.
Here is where my column comes in handy. The Lord has chosen me to remind you all that scriptures tell us "I can do all things through Christ who strengthens me." And also remind you that "No weapon formed against you shall prosper."
Remember, that tiny little light, the flame must stay lit. Don't let it go out. Once your little flame dies, the angels will pass you by. You won't have that magic that attracts angelic spirits, known as "faith." Fix it by faith!
Lyndia Grant is a columnist, and she hosts a radio talk show on WYCB AM 1340, a Radio One station; call Lyndia at 202-518-3192; or send emails to lyndiagrant@gmail.com.