DAVE OWENS: Time for Cheating Athletes to Man Up
Dave Owens, Special to The Informer | 8/29/2013, 4:03 p.m.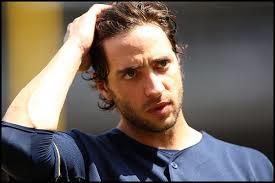 So Ryan Braun is sorry. Of course he's sorry — most liars are after they get caught.
Here's a question I keep asking myself whenever an athlete admits to cheating after initially denying it: Why the heck didn't they come out and say so in the first place?
Braun could've saved himself a few months of anxiety, embarrassment and shame. I saw a headline recently that read: "Let the cleansing begin."
Seriously? And there's a tooth fairy as well, right?

I'm way past the days of being surprised when an athlete admits to cheating. I'm smack dab in the middle of believing we shouldn't expect them not to.
Braun signed a $105 million extension in 2011, and we know by now of the buckets full of cash the Yankees have invested in Alex Rodriguez.
Humans are motivated by a lot of things. In my opinion, money and prestige sit high atop the totem pole.
Cheating happens everywhere and money and prestige are often the motivators. Politicians illegally siphon public funds for personal use all the time. Boosters have ponied up cash and other benefits to the best student-athletes in revenue producing sports for decades. They did it for a lot less than the kind of money Braun and A-Rod are getting.
So I'm not surprised in the least that Braun cheated. He should've just coughed up the confession sooner. We're a forgiving society. Does anyone even remember that Andy Pettitte took performance-enhancing drugs? Heck, I almost forgot. He came clean and we moved on.
Braun should've taken a page out of that book. Instead, we'll always remember how he looked us dead in the face and went all Lance Armstrong on us.
Dave Owens is a sports anchor/reporter at WUSA-TV in Washington, D.C., and a professor of journalism at the University of Maryland. Contact him on Twitter @DaveOwensWUSA.