D.C. Mayor Gray Says He'll Run for Second Term
Barrington M. Salmon | 12/2/2013, 4:45 p.m. | Updated on 12/4/2013, 3 p.m.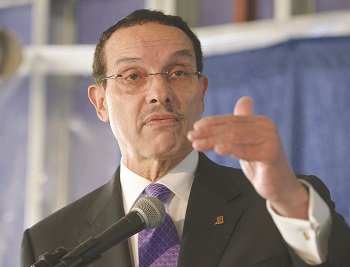 Ward 8 Council member and four-time D.C. Mayor Marion S. Barry has often said there's no more difficult job than being mayor of the District of Columbia.
But early Monday, Mayor Vincent C. Gray (D) ended months of speculation by announcing his intention to run for a second term. He reiterated his desire to continue serving as the chief executive of the nation's capital at a Dec. 3 press conference, and swatted away reporters' questions about a 2010 campaign scandal that has dogged his administration for more than three years.
"I've said what I've said and said it repeatedly," Gray, 71, asserted, referring to his previous statements that he wasn't aware of campaign aides' actions. "I've said what I plan to say about this. I've said enough.
"I intend to talk about the future of this city, he said. "The foundation has been laid. That issue [the campaign scandal] was from three-plus years ago. It will be taken care of. There are tens of thousands of people who weren't here in 2010. People get in the campaign because they want to. They like the title. We have a vision and will continue to articulate that vision. Candidates need to say where they want to take this city."
Gray presides over a city that — despite myriad problems — is a growing technology hub, which sees 1,100 people move here every month, where the skyline is dotted with cranes, construction is booming, and city officials continue looking for ways to diversify the local economy. Gray has also gained credibility and national prominence for refusing to shutter city operations during the October federal shutdown and for his robust defense of D.C.'s autonomy and independence.
Gray has rebounded well from what could best be described as an "anni horribiles." He endured revelations of a $653,000 shadow campaign which emerged during the course of a federal investigation into campaign irregularity, and four of his 2010 campaign aides pled guilty to various offenses. Last year, Council member David Catania (I-At Large) and his colleagues Muriel Bowser (D-Ward 4) and Mary Cheh (D-Ward 3) demanded that Gray step down. Catania argued that the revelations delegitimized Gray's victory and so tainted his tenure that whether the mayor knew of the shadow campaign or not, he should resign.
Then, as now, Gray denied any wrongdoing and steadfastly refused to step down.
U.S. Attorney Ronald Machen, a frequent and relentless critic said in the past that the guilty pleas were bad marks against an election already stained by proof that Gray campaign aides made illicit payments to Sulaimon M. Brown, a minor mayoral candidate, who was offered money and a job to batter Mayor Adrian Fenty in forums prior to the election.
"In 2010, the mayoral campaign was compromised by backroom deals, secret payments and a flood of unreported cash," Machen said after the guilty plea of Gray's longtime friend and associate Jeanne Clarke Harris. "The people of this city deserve better. They deserve the truth."
Ten candidates — including four members of the D.C. Council — have secured ballot petitions for the April 1 Democratic primary. Gray's incumbency gives him widespread name recognition and as he illustrated during a presentation about his administration's five-year economic development plan, he has a record on which he proudly plans to run.