Ben's Chili Bowl to Open Virginia, H Street Locations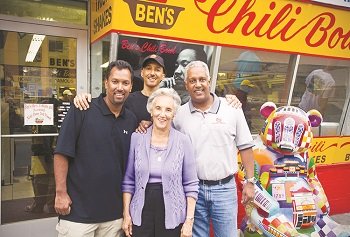 Ben's Chili Bowl fans living outside of the District who dislike long drives to the restaurant's landmark U Street location can take heart. Additional Ben's eateries open next year in Arlington, Va.'s Ronald Reagan National Airport, and on Wilson Boulevard. Another Ben's District restaurant will open on 10th and H Streets in Northeast.
"My father had looked at expansion when he was a much younger man. But the money wasn't there at the time for minorities [to increase their businesses]," said Kamal Ali, one of restaurant founder Ben Ali's sons who operates Ben's Chili Bowl. Ben Ali died in October 2009 at age 82.
Kamal Ali, 51, said expansion of the Ben's Chili Bowl business and brand began with the opening of two concession stands at the FedEx Field football stadium in Landover, Md. and four in Nationals Park on South Capitol Street in Southeast. Ben's Chili Bowl also opened Ben's Next Door, located next to the original restaurant.
"We have a larger development plan for the 'DMV [District, Md. and Va.]'" said Kamal Ali. "We conducted market research; we examined 'foot traffic' to restaurants in Virginia, the disposable income of residents in the area, and other factors that would determine the best chances of being successful. We considered opening in Ballston, Clarendon or Rosslyn, Va. But we liked the location in Arlington."
The Arlington space at 1725 Wilson Boulevard had previously been occupied by a popular Arlington hamburger restaurant, Ray's Hell Burger. "It's a great strip [mall]," said Kamal Ali, "and it has a parking lot."
Unlike the concession stands at FedEx Field and Nationals Park, and the smaller Reagan National Airport eatery, the Arlington and H Street, Northeast Ben's Chili Bowls will not be franchises.
"Franchising is a way to grow faster. We don't have to do day-to-day managing, but we get our royalties, and customers get their half-smokes," Kamal Ali said.
"The strategy is to operate the H Street, Northeast and Wilson Boulevard locations in ways where we can learn things outside of the U Street flagship store. This will give us a true test before we decide how to build out our restaurants and brand."
Loyal customers of the 55-year-old restaurant need not worry about their favorite half-smokes, chili-hamburgers, hot dogs and other favorites tasting differently in the new locations.
"That's where staff training comes in," Kamal Ali said. "The product will be consistent in every Ben's Chili Bowl location. It's like McDonald's. You can go to any McDonald's anywhere and the food will taste the same." There will be some Ali family members supervising and working in the H Street, Northeast and Arlington locations, he said.
Kamal Ali anticipates that the newer restaurants combined will generate approximately 100 jobs. "We will train people, and we will take people with experience, some experience, or no experience. But we want people who are friendly and are customer service oriented."
The two-story H Street, Northeast Ben's Chili Bowl, which will include an upper level restaurant called "Ben's Upstairs" is scheduled to open sometime before June 2014. The Arlington location will open in January or February 2014. The opening for the Reagan National Airport location is planned sometime before May 31, 2014.
Ben's Chili Bowl customers interviewed shortly after Thanksgiving welcomed the news about the restaurant's new locations.
"The Arlington restaurant might be easier for me to go to if they have more parking spaces," said Judy Wongsam, 44, of Northwest.
"The H Street location might not work [for me] because it would be hard to find parking. I could see myself driving to the suburbs to go to the Ben's Chili Bowl in Arlington, especially if they have parking."
Other loyal patrons of Ben's Chili Bowl agree.

"I would consider going to the Ben's Chili Bowl in Arlington," said Jason Small, 47, of Centreville, Va. "It would be closer to where my family and I live, and I love the food."
There's a general consensus.

"I'd eat at the Arlington Ben's Chili Bowl, definitely, because it would be closer," said Darrell Douglas, who also lives in Alexandria, Va.
Whatever their location, said Kamal Ali, "We thank the community for many years of support and the opportunity to serve them."
Follow Margaret Summers on Twitter @margaretsumme10.