Countryman: Mini's Thrilling Bite-Sized Crossover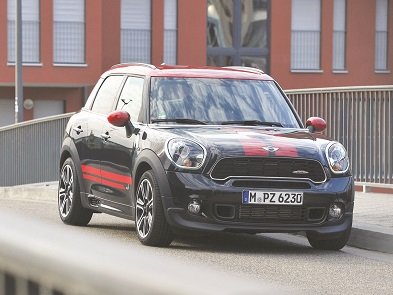 If you have ever circled around a city block looking for a free space, struggled to parallel park into what seemed like a safe opening only to realize that your car was way too long, then you may appreciate why millions of drivers love the Mini Cooper. With legendary turbocharged engines, coupled with sport-tuned suspensions that allow drivers to charge around town like energizer bunnies, the tiny cars offer a unique sporting blend of classic British mini-car charm combined with precise German engineering and construction.
Based on the original British made Mini first introduced in 1959, the modern Mini – now owned by BMW – is far bigger than the original. Building on the philosophy that the only way to enable middle-class commoners easy entry to the upper crust of the British automotive club is through a "more is more" approach, BMW has added a dizzying 13 models to the Mini lineup since the car was re-launched in the U.S. a decade ago.
Take this week's test car – the Mini Countryman which is actually not a mini but a midi – a stretched, Mini with four full-sized doors and 700 pounds more weight than a standard hatchback. The Countryman is compact and a feature-packed crossover that manages to still look like a Mini while also giving a new take on what a compact utility vehicle should be, minus all the extra size and weight.
Customers can choose from three engine variants. The standard 1.6 liter, four cylinder Cooper engine (121 h.p.) is the standard powertrain, while the turbocharged Cooper S engine is an option delivering 181 h.p. There is also the ultra-sporty John Cooper Works Countryman, powered by a turbocharged 208 h.p. engine. The all-wheel-drive system fitted as standard on John Cooper Works is also available as an option for the regular Minis. All models can be ordered with a six-speed automatic gearbox as an alternative to the standard six-speed manual.
I drove the ultra-sporty John Cooper Works Countryman. On the road, my red Mini radiated attitude with its black stripes, black top and black mirrors, 18-inch wheels and three-inch-diameter dual exhausts (for a 1.6-liter 208 h.p. four-cylinder engine). The car's all-wheel-drive system uses an electromagnetic center differential to distribute drive seamlessly between the front and rear axles. This ensures the engine's power always finds its way to where it can be converted most effectively into forward motion. Though not as quick or precise as a regular Cooper Works hatchback, the Countryman variant still delivers surprising vigor while cruising on the highway or turning corners in tight urban streets.
The added height gives the Countryman a more accommodating interior. Driving cabin feels less claustrophobic compared to the hatchback and adult passengers appreciate the extra rear space. Numerous cup holders and storage facilities make it easy to take drinks and travel utensils along, and there is an additional storage compartment behind the decorative strip on the passenger side.
In addition to the anti-lock system, our Countryman came with HID lights, leather seating, navigation, automatic climate control, and parking sensors. While there's a Countryman for almost anyone – be watchful of the bottom line as you check the options. The base Cooper Countryman retails just above $22,000.
Our full featured Countryman John Cooper Works model came with a $34,850 sticker price. Fuel economy is stated as 27 miles per gallon city/35 mpg highway for the base Countryman with manual transmission. Our car, equipped with an automatic transmission, checked in at 23 mpg city/30 mpg hwy.