Hoyas Turn Up the Heat at Home
Georgetown Basketball Team Ready to Make a Run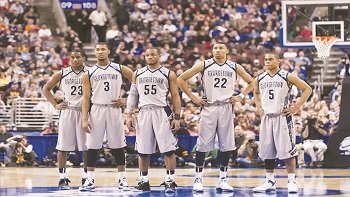 Whittington, 21, also suffered a brutal injury last year, tearing his anterior cruciate ligament. Team officials declined to say specifically why they cut Whittington or what the Hoyas would do to replace the former 2011 All-Met Player of the Year at Oakland Mills High School in Columbia, Md.
Cutting Whittington means the team will not get one of its leading scorers and top rebounding forwards back this season. Whittington averaged 12 points and 7 rebounds in 13 games last year and his rehabilitation from the injury appeared to be ahead of schedule.
Sports analysts at ESPN said Whittington would have been the Hoyas top player entering this season with the departure of Otto Porter Jr. to the National Basketball Association (NBA). The Washington Wizards selected Porter, 20, with the third pick in the draft this year and signed him to a four year, $19 million contract.
It isn't known whether Whittington will transfer to another school, play professionally overseas or attempt to hook up with an NBA team.
"It doesn't matter, our team continues to mature and get better," said Hoya fan, Avery Anderson, of Alexandria, Va. "If [Whittington] was any kind of distraction, you know Coach Thompson wasn't going to put up with it for long," said Anderson, 31. "Do you think the coach's dad would have?"
Like many Hoya fans, Anderson has high hopes for this year's team.
Others agree.
"Our conference is decent, but I think as the season progresses, we'll get stronger and the guys will be more acclimated to playing together," said Nick Bowen, 34, also of Alexandria.
"I think we can do big things and I'm glad that we got that long road trip out of the way early. I think that will help, not having to take long trips in the middle of the season."