Interracial Dating Gains Popularity Online
D.C. Ranks Among Top Cities for Mixed Couples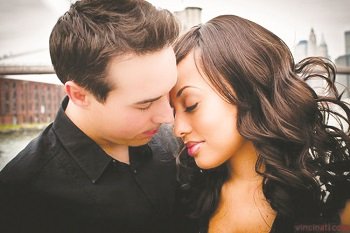 Interracial dating has continued to be all the rage, particularly online where singles are more likely to seek romance outside of their respective races.
Statistics compiled by the popular dating website, OKCupid.com, and others, show that black men and white women primarily seek mates from different backgrounds, and District residents count heavily among those with a preference for interracial unions.
"To gain a clear insight and yes, just being nosy and exercising my single black male inquisitiveness, I joined a number of dating sites and what I found striking was on sites specific to black people, black men in particular, there was no shortage of white women who identified themselves as such in profiles and pictures seeking black men," said author Ronald Hanna, a Southeast resident who penned his 2012 self-published book, "It's All in the Game."
In a study published last month, researchers at the University of California, San Diego, found that while many users logging onto various Internet dating sites tended to initially reach out to their own race, they were far more likely to respond to messages from individuals from different ethnicities and races.
The researchers analyzed the first interactions of more than 126,000 Americans who use OKCupid.com and other web-based services.
They discovered that once individuals responded to members of another race, both parties easily engaged in conversation.
"… People are avoiding others from a different racial background [initially] because they think others won't be interested," said the study's author, Kevin Lewis, a sociologist at the University of California, San Diego.
Lewis said once initial contact has been made, online participants become more comfortable communicating with individuals of a different race.
More than 50 percent of black men and 60 percent of white women each noted in their profiles that they preferred to date outside of their race, according to the Pew Research Center in Northwest, which conducted a study between 2008 and 2010 about online dating.
Conversely, only about 20 percent of black women said that they're seeking male companionship from a different race.
"There are black women whose profiles state, point blank, that they are seeking a white man," Hanna said. "I'm an analytical [thinker] and I perceived in many cases that white women were specifically seeking out a black man for [intimate] purposes. That's been occurring … since slavery."
For those who maybe flirting with the idea of an interracial relationship, authors Christelyn D. Karazin and Janice Littlejohn, have mapped out a strategy for finding a mate in their 2012 book, "Swirling: How to Date, Mate, and Relate: Mixing Race, Culture, and Creed," published by Atria, a division of Simon and Schuster.
Karazin, a black columnist for Madame Noir magazine who also writes the blog, "BeyondBlackWhite.com, and Littlejohn, a veteran journalist who has worked for the Associated Press, Essence and Vibe, chronicled their personal experiences of interracial dating and marriage and why it's become important for black women who might be interested in having a male partner of another race.
"The lamentable truth is that at least two million of us are in jeopardy of never experiencing [true love], especially within our own race," said Karazin, 40, who lives in Los Angeles. "The shortage of black men is real and black women are fighting like alley cats for the half a handful of eligible and marriageable brothers."