Interracial Dating Gains Popularity Online
D.C. Ranks Among Top Cities for Mixed Couples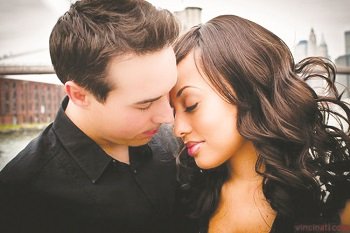 Littlejohn, who also lives in Los Angeles, said black women shouldn't settle. "So as the world swirls, black women are stuck in lives filled with made-for-soap-opera drama and settling for less than they deserve," said Littlejohn, the book's co-author and a black woman.
"It is telling when a woman with her masters degree and making a decent amount of money decides to steal a car with her man just to prove she loves him, or a Christian woman and mother of four opts to marry a man serving a three-strikes sentence in prison because she doesn't want to be alone anymore … and all because black women fear cultural isolation from their own community when they mix date and marry."
Karazin said there are many myths that are being perpetrated as to why black men seek white women and white women seek black men to develop relationships. "If you go online and read some of the things being said, it can kill your soul," she said. "There is an element of escapism involved and I can't quantify how many [interracial] couples have met online searching for love, but I do believe that the overwhelming majority are looking for true love."
Various studies show that nearly 18,000 D.C. residents are multiracial, with about 7,000 who identify themselves as being black or of another race.
The United States Census Bureau reported that while about 6.9 percent of married couples in America are interracial, the percentage in the District stands at nearly 11 percent.
Twenty percent of Washington, D.C., couples who married between 2008 and 2010 are of mixed-race, said Census officials, who also noted that the percentage of all married couples in the District stands at just 10.2 percent.
"Well, what it proves is that love can be found outside of your race, especially here in the District," said Marilyn Shaw, 48, a clinical psychologist in Northeast.
"You can call it the forbidden fruit, or you can call it jungle fever, but whatever you might say it is, the facts are that black men are dating white women and white men are dating black women. As someone who's black and married to a white man, I'm happy to say that it's not exclusive or elusive company any longer. It truly is whatever and whoever makes you happy."