Local Nonprofit Launches Respite Care Center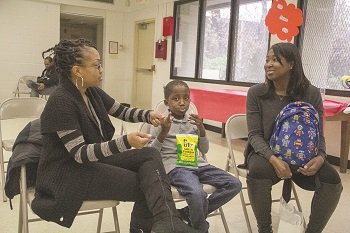 Shaquilla Henry walked into F.A.C.E.'s Place Respite Care Center in Silver Spring, Md. determined to help her son strengthen his cognitive abilities through music therapy, arts and crafts, and sensory games. Nine months ago, her family physician diagnosed the youngster with autism and she has struggled to address his special needs while balancing other obligations.
That morning, she watched in awe as Jaylen, 5, eagerly played with blocks, scribbled stick figures, poured a container of glitter onto a blank sheet of paper, and horsed around with other children. She said the experience has given her a glimmer of hope.
"Once Jaylen gets more acclimated [to the exercises], I know it will be a great experience for him," said Henry, 29. "It's good to find places like this in the area for help. He's very active and always wants to learn. I would like for him to communicate more and form full sentences when he asks for things," said Henry who lives in Laurel, Md.
Henry and a dozen other parents recently gathered to share their stories while their children participated in a variety of activities at an open house for F.A.C.E.'s Place Respite Care Center on Nov. 16. Facing Autism with Children Everywhere (F.A.C.E.), a Silver Spring-based nonprofit that provides services for children with autism and their parents, hosted the four-hour event and showcased its array of services available for $40 per session.
"Autism diagnoses are on the rise. The fact is that it is not going anywhere," said Shanté Harris-Superville, 40, founder and executive director of F.A.C.E. "Parents who need help and want to help others are spreading the word. The need is out there," said Harris-Superville who lives in Silver Spring, Md.
Two in 1,000 children are diagnosed with autism in the United States every year according to a report released by the Centers for Disease Control and Prevention (CDC) in 2012. Diagnoses have risen steadily nationwide among minority children since the 1980s in part due to the increase in government-funded subsidized incentives. Variations of the disorder on the autism spectrum include Asperger syndrome and Pervasive Developmental Disorder-Not Otherwise Specified (PDD-NOS). Symptoms often appear in the first six months of a child's life and include a lack of responsiveness to their name and external stimuli, infrequent eye contact, an inability to take social cues, repetitive behavior, and atypical eating habits.
While parents of autistic children living in Maryland can obtain early intervention that includes in-house speech therapy and enrollment in specialized school programs, resources that aid in their day-to-day care often dwindle by the time children reach the age of nine, leaving parents to care for their children at a critical juncture in their development.
Harris-Superville, whose son was diagnosed with PDD-NOS in 2008, started F.A.C.E. in January after coming to this realization. The nonprofit as she envisioned it, would challenge negative perceptions about the developmental disorder and create a space where overwhelmed parents can receive the help they need once their child reaches an age where state-funded resources are not readily available.