Local Nonprofit Launches Respite Care Center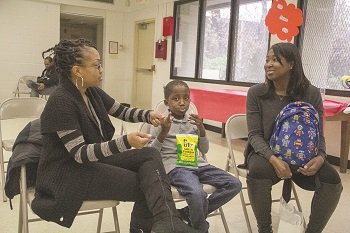 "If those aftercare programs are taken away by the time children reach [the age of] 10, there is not much for them to do," said Harris-Superville. "Even if they have siblings, there is still not the same level of social interaction and stimulation they need. That social interaction helps them interact with their peers. Without that care, there is a lot of regression."
F.A.C.E.'s Place Respite Care Center's official launch, slated for January 2014, follows a 5K charity event in April during which more than 100 people jogged and walked around a six-lane indoor track at the Prince George's County Sports and Learning Complex in Landover, Md. The nonprofit also released "What Autism Looks Like," a calendar in which local children pose with Washington Redskins and Baltimore Ravens cheerleaders and readers learn more about each child's interests.
Organizing these events has provided Harris-Superville the opportunity to collaborate with other organizations and pool resources to reach a wider audience in the Washington metropolitan region. Anya Remy, founder and director of Puzzl'd, a Silver Spring-based autism awareness organization, spent much of the morning selling T-shirts and socks and chatting with parents about her experiences as the mother of an autistic child.
Profits generated from the sales of the merchandise go into a scholarship fund that will enable one child to attend a session each month free of charge. Remy said that working with F.A.C.E. has allowed her to challenge the stigma around autism and show parents that they are not alone in meeting the demands of raising an autistic child.
"People in our community don't want to think anything is wrong especially if something doesn't look wrong. This [respite care center] is a funky way to raise awareness in our community," said Remy, 29. "I often think about how cool it would be for my peers [with autistic children]. They need some place to look. This will help. There are so many resources here," said Remy who lives in Silver Spring, Md.
NeCole Reese, a biological research assistant at the Walter Reed Army Institute of Research in Silver Spring, Md., purchased a T-shirt and kept a watchful eye on her son Rowan, 9, as he dashed across the room and played with the other children. She said that she appreciated the few hours of relaxation the respite care center provided.
"Most parents use respite care as a getaway," said Reese, 32. "This center is a special place for both the kids and the parents. Shanté is a very good friend of mine so I'm here to support [her] just as she has supported me. It is extremely important and I appreciate that she has started this organization," said Reese who lives in Silver Spring, Md.
For more information about Facing Autism with Children Everywhere (F.A.C.E.), visit facethemovement.org/the movement.html. To learn more about the F.A.C.E.'s Place Respite Care Center, visit facesplace.org.