Mel Franklin, Will Campos to Lead P.G. County Council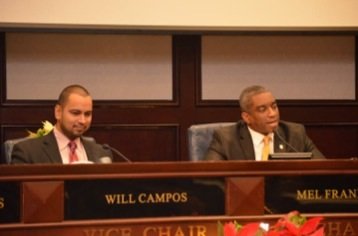 Prince George's County Councilman Mel Franklin has been elected as chair of the council after a Tuesday vote by fellow members.
Franklin (D-Dist. 9) of Upper Marlboro replaces Andrea Harrison (D-Dist. 5) of Glenarden, who was elected in 2012 and re-elected for 2013.
"We are in the process of working to transform Prince George's County into a destination for the world," said Franklin, who was elected to the council in 2010. "Our talented and resilient residents want to work and invest in their own county and draw others to do the same."
The council annually selects new leadership to serve a one-year term during the first week of December.
Will Campos (D-Dist. 2) of Hyattsville, serving his second term on the council, was elected vice chair, replacing Obie Patterson (D-Dist. 8) of Fort Washington. With the vote, Campos becomes the first Hispanic elected to one of the council's top posts.
County Executive Rushern L. Baker III (D) said he looks forward to working with the new leadership.
"I am confident that my administration will continue to work collaboratively with this new leadership team and the rest of the council as we advocate for the residents of this great county," he said.
For more Prince George's County/Maryland news, follow @JoshuaGarnerDC on Twitter.