First Lady Michelle Obama Recognizes 12 After-School Programs at the White House
12/4/2013, 3 p.m.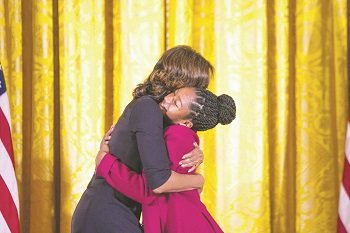 First lady Michelle Obama invited the 12 winners of the 2013 National Arts and Humanities Youth Program Award to the White House to recognize their effectiveness in developing learning and life skills in young people by engaging them in the arts or humanities.
The 12 community-based organizations from across the country were chosen from a pool of more than 350 nominations and 50 finalists to receive the highest honor awarded to such programs in the United States. One international program was also recognized with the International Spotlight Award for a remarkable youth-oriented cultural program.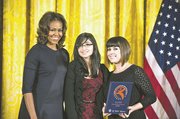 The awardees were recognized by Mrs. Obama for using engagement in the arts and the humanities to generate a wide range of outcomes, including increases in academic achievement, graduation rates, and college enrollment, as well as improvements in literacy and language abilities, communication and performance skills, and cultural awareness.
The ceremony included a live performance of African music and dance by the Ifetayo Youth Ensemble of Brooklyn and a speech by a member of Project AIM, an arts program for hospitalized children fighting cancer in El Paso, Texas, two of this year's awardees.