MUHAMMAD: Can Obamacare Be Fixed?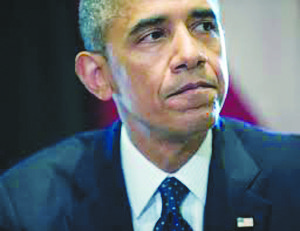 If you let some people tell it, the Affordable Care Act (ACA, aka "Obamacare") is suffering from an incurable, genetic disorder. That is: it was parented by President Barack Obama.
Never mind that back in 2010 the law required at least 218 yes votes in the House of Representatives; at least 51 votes in the Senate; and in 2012 at least five votes confirming it when it came before the U.S. Supreme Court.
None of that matters. The DNA test proves it: "Barack Obama, you are the daddy! You alone are to blame!"
What's more, the Johnny-Reb, Tea Party, Ku Klux Kaucus in Congress has managed to convince many of the most vulnerable, and most in need of the very relief that the ACA provides, to be adamantly against the law.
In Texas for example, where Republican Gov. Rick Perry could not count to three in a 2012 GOP presidential candidates' debate, and where neophyte Sen. Ted Cruz made a fool of himself reading "Green Eggs and Ham" in a futile 41-hour faux-filibuster against Obamacare; in Texas there are more children in need, without any health insurance than any other state, though Texas is not nearly the most populous state.
Still, a majority of Americans believe it's too soon to label the Affordable Care Act a failure and that the problems that have plagued the law's rollout will eventually be fixed, this according to a CNN/ORC International poll released Nov. 27. But the GOP tar-and-feather-Obama campaign managed to convince almost four in 10 Americans to now call Obamacare a failure, with 45 percent saying its flaws will never be fixed.
At the same time, the president's job approval fell to its lowest level ever, and even his trustworthiness and likeability fell to unprecedented lows after the ACA went into effect Oct. 1 with its Internet enrollment site often frozen under the crush of consumers seeking information about the health insurance "exchanges" that were to provide a gateway to the hundreds of private insurance plans available.
Support for the plan eroded even further when some consumers who already had private health insurance were told that their policies were being cancelled or their rates were being increased in order to bring all insurance coverage into compliance with the improved standards required by the ACA. The House even approved – with dozens of defecting Democratic votes – the "Keep Your Health Plan Act," intended to dismantle some of the ACA's features.
It is easy to see, these have probably been the president's worst two months in office. For his part however, the president sought to redirect some of the political blame for the rollout of the federal health insurance exchange to Republicans, characterizing GOP lawmakers as rooting for the law's failure.
"One of the problems we've had is one side of Capitol Hill is invested in failure," the president said at the Wall Street Journal's CEO Council meeting here on Nov. 19. "We obviously are going to have to remarket and rebrand, and that will be challenging in this political environment." The president also voiced frustration with the hostile political atmosphere challenging his signature legislative victory, and indeed every effort he has put forth. The president said Washington needs to "break through the stubborn cycle of crisis politics and start working together."