P.G. County Approves Minimum Wage Increase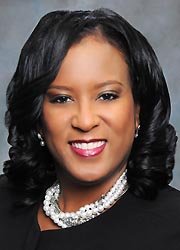 More cash will end up in the wallets of minimum wage workers in Prince George's County thanks to the county council's approval of legislation that will bump hourly earnings to $11.50 by 2017.
Council members unanimously approved the legislation on Nov. 27 mirroring similar legislation in Montgomery County and the District to phase in gradual hikes to current wages by more than a dollar a year over the next four years. Montgomery County approved raising its minimum wage early last week in legislation that reflects Prince George's County.
"This small change over four years is not going to end poverty – we know this," said Councilwoman Andrea Harrison, 50, (D-Dist. 5) of Glenarden. "This small change is going to give people hope."
In Maryland, the minimum wage in both Prince George's and Montgomery counties hasn't been raised since 2009, when the state minimum wage jumped from $7.10 to $7.25. In the District, members of the D.C. Council plan to vote on similar legislation this week. Efforts to raise the minimum wage for employees who work for big-box retailers in the District stalled earlier this year.
Still, opponents fear its impact on small businesses and that the hike might hinder business growth in Prince George's County during a wobbly economy. Though the medium income in Prince George's County hovers above $71,000, it lags behind most jurisdictions in the region. Additionally, the county has been slower than other jurisdictions in regaining jobs lost during the recession.
"We are largely a bedroom community. We don't have enough jobs," said David Iannucci, deputy chief administrative officer for Economic Development and Public Infrastructure, at a recent town hall meeting that discussed economic development in the county. "Too many of our residents leave the county [for work]."
However, the legislation received applause by civil rights and labor groups like the NAACP and CASA de Maryland, whose members packed the county council hearing room during the final vote and cheered when the bill passed.
"I'm so proud of this [county council]. They are one of the most progressive councils in the state," said Bob Ross, president of the Prince George's County Branch of the NAACP. "If you don't work for minimum wage, you don't know what impact [this has]."
The current state and federal minimum is $7.25 an hour, about $15,000 annually for full-time workers, leaving minimum wage employees well below the poverty line, according to the county. Under the county's legislation, annual wages could be more than $22,000 for full-time workers by 2017.
"People don't think about [the fact that] these are people working to make ends meet as best they can," said Councilwoman Mary Lehman (D-Dist. 1) of Laurel. "We need to keep that in mind when we have this kind of discussion … this was the right thing to do, it's more than fair."
Council members agreed that the wage increase won't end financial hardships of minimum wage earners but said that extra income would lift the regional economy.
"A rising tide floats all boats," said Councilman Derrick Leon Davis (D-Dist. 6) of Mitchellville.
The legislation still needs to be approved by County Executive Rushern L. Baker III (D).
Harrison said she isn't concerned about a veto from Baker, 55, because the council has enough votes to override any possible action. Still, Harrison said the council decided to take action after seeing similar legislation hit a brick wall in Annapolis earlier this year.
"We can't guarantee what [the state legislature] is going to do, anything can happen between now and April so why wait?" she said.
For more Prince George's County/Maryland news, follow @JoshuaGarnerDC on Twitter.