Ralph Everett, Joint Center President and CEO, to Step Down
12/4/2013, 2:07 p.m.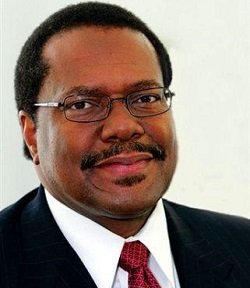 Ralph B. Everett, the president and CEO of the Joint Center for Political and Economic Studies, announced Wednesday that he will step down after seven years as head of the research and policy organization, which focuses on issues of concern to African-Americans and communities of color.
Everett's resignation is effective Dec. 31. The Joint Center's board of governors has formed a search committee, and Everett will assist with the transition to new leadership. Brian D. Smedley, Ph.D., the Joint Center's vice president and director of its Health Policy Institute, will serve as interim president and CEO.
Everett was appointed to lead the Joint Center, which was founded in 1970, by the organization's board of governors in December 2006. He immediately set out to realign the organization into policy-focused institutes, building on the previous success of the Health Policy Institute and creating new "centers of excellence" for media and technology and civic engagement and governance.
Under his leadership, the Joint Center also established the Commission to Engage African Americans on Energy, Climate Change and the Environment — an effort to bring more diverse voices into the debate on global warming and what to do about it — which eventually became the Joint Center Energy and Environment Program.
"With his energy and vision, Ralph Everett boldly led our organization into a new era, bringing an intensity of focus to key policy areas that were in great need of African American perspectives and of the unique contributions that the Joint Center could offer," said Barbara L. Johnson, acting chair of the Joint Center's Board of Governors. "We deeply appreciate his years of service and know that the Joint Center is in an excellent position to continue to drive critical policy solutions and help make America a better place for all."
"It has been an honor and a privilege to lead the Joint Center at a time of great opportunity for its research and policy activities to make a real impact on the direction of our country," Everett said. "I am proud of the important work we are doing and the impact we are having, and I am particularly thankful for the support of our talented staff and our Board of Governors in helping see our accomplishments through."