Wal-Mart Opens in Two D.C. Locations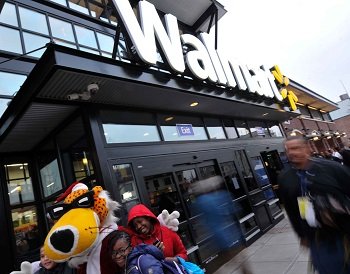 Wal-Mart finally arrived in the District on Wednesday, as hundreds of residents flocked to the grand opening of stores in two of the city's most heavily populated commercial corridors.
The two stores — located at 99 H Street NW and 5929 Georgia Avenue NW — opened after a lengthy and contentious battle among the D.C. Council over a "living wage" bill threatened to keep the giant retailer from opening in the city.
D.C. Mayor Vincent Gray and Council member Muriel Bowser of Ward 4, who is running against Gray for mayor, temporarily put aside their political differences to celebrate the opening at the Georgia Avenue location.
Bowser said the store has arrived at the right time.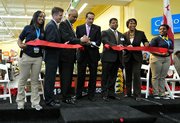 "This store represents what we want in our ward," Bowser said. "Residents in Ward 4 have the opportunity to walk to a quality store in their neighborhood."
Council members Vincent Orange (D-Ward 5) and Anita Bonds (D-At Large) were also in attendance while D.C. Council Pro Tem Kenyan McDuffie (D-Ward 5) shopped discreetly in the store. Willie Jolley, an internationally known public speaker and entrepreneur who lives in Ward 4, was also on hand to purchase food and supplies.
"Until now, residents had to leave town to take advantage of the everyday low prices and selection that's made Wal-Mart a global leader," said store manager Alvin Robinson, who started his career with Wal-Mart two years ago as part of its management training program. "We are excited to bring these new stores to residents, providing them the opportunity to save money and liver better closer to home."
Officials at the H Street location gave a sneak peek to the press a day ahead of Wednesday's opening.
General manager Eric Quist guided the entourage through the 73,000-square-foot store located between Union Station and Chinatown, occasionally stopping to lead employees milling about the building in a chant.
"We're doing fine," they shouted when Quist asked how they were doing. "We're accident-free, clean, neat and friendly."
The supercenter employs 300 people with about 70 percent of them living in the District. Their starting pay hovers around $9.25 an hour.
"Our new store offers these residents not just job opportunities, but a chance at career growth," said Quist, 55, who has worked at various Wal-Marts for nearly 20 years. "We also offer taxes in support of the community, and provide monetary donations to different charities in the area."
Quist said the store, which sits adjacent to a new upscale apartment complex, has much to offer customers — particularly because the area lacks other competitive retailers.
"We offer everything from groceries and fresh foods and rotisserie chicken, to home goods, apparel and fishing licenses, as well as a pharmacy," Quist said. "The store is going to meet some of those everyday needs that people have, and for which they'd normally have to travel a distance to purchase.
"What we offer them is one-stop shopping right in their own community," he said. "We go out into the community, find out what their needs are and we bring those products in."