MALVEAUX: Wal-Mart Workers Shouldn't Have to Donate Food to Co-Workers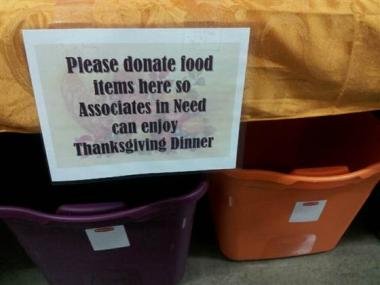 The National Labor Relations Board just announced that it would prosecute Wal-Mart for its illegal treatment – firing or disciplining – 117 striking workers. Many of these actions were initiated in last year's "Black Friday" when some workers did not want to work Thanksgiving Day or the day after, and others used the occasion to educate the public about their low pay levels.
This year Wal-Mart will open at 6 a.m, two hours earlier than last year. Your dinner will hardly be digested before you head to the store. So while Wal-Mart professes to be concerned about some workers having a good Thanksgiving dinner, they are hardly concerned about when they will have the opportunity to enjoy it, unless they opt for the Thanksgiving dinner Wal-Mart will offer to its "associates" who are forced to work on Thanksgiving.
Enough, Wal-Mart! Pay the people fairly. Pay them wages, not giveaways. Stop threatening organizers. Have respect for your workers. Live up to the publicity that you keep churning out. ndeed, divide the publicity budget among your workers who will sing your praises when they are paid a living wage.
Julianne Malveaux is a Washington, D.C.-based economist and writer. She is President Emerita of Bennett College for Women in Greensboro, N.C.