Nelson Mandela, Former South African President, Dies
Anti-Apartheid Hero Mourned Around the Globe
Stacy M. Brown | 12/5/2013, 4:48 p.m. | Updated on 12/6/2013, 12:27 a.m.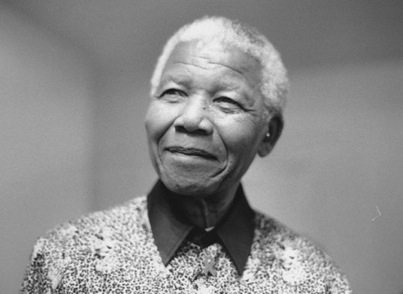 "There is no passion to be found playing small — in settling for a life that is less than the one you are capable of living." — Nelson Mandela
In Washington, D.C., and far-flung corners of the world, admirers of human rights icon Nelson R. Mandela are recalling the life of South Africa's first black president, who was also a freedom fighter branded a terrorist, a Nobel Laureate, political prisoner, lifelong rebel and thorn in the side of the white minority government.
Mandela died at his home in Johannesburg, South Africa, on Thursday, Dec. 5. He was 95. He had been in poor health for some time, and earlier this year was hospitalized for three months in a Pretoria hospital with respiratory and other problems.
For the South Africans who gathered in front of Mandela's home in the hours following his death, their grief turned to a celebration of a life well lived as they danced deep into the night. South African President Jacob Zuma announced Mandela's passing. Mandela will be accorded a state funeral and will be buried in his ancestral homeland in the Eastern Cape in 10 to 12 days, South African officials said.
"My fellow South Africans, our beloved Nelson Rolihlahla Mandela, the founding president of our democratic nation has departed," said Zuma, 71. "He passed on peacefully in the company of his family ... He is now resting, he is now at peace. Our nation has lost its greatest son; our people have lost their father. Although we knew this day would come, nothing can diminish our sense of a profound and enduring loss."
"His tireless struggle for freedom earned him the respect of the world. His humility, his compassion and his humanity earned him their love. This is the moment of our deepest sorrow. Our nation has lost its greatest son."
President Barack Obama praised Mandela in a statement given in the Brady Press Room at the White House, saying he was one of the countless millions influenced by Mandela.
"He achieved more than could be expected of any man," Obama said. "Today he's gone home and we've lost one of the most influential, courageous and profoundly good human beings that any of us will share time with on this earth. He no longer belongs to us; he belongs to the ages. Through his fierce dignity and unbending will to sacrifice his own freedom for the freedom of others, Madiba transformed South Africa and moved all of us. His journey from a prisoner to a president embodied the promise that human beings and countries can change for the better."
Nicole Lee, president and executive director of TransAfrica, said those who loved and admired Mandela are now called upon to carry on his legacy of courageous activism.
"The entire TransAfrica family is deeply saddened. It's a great loss to this country and the entire world," she said during an interview Thursday evening. "He stood up for freedom in South Africa. How he did it had a profound impact in his country and the world."