Nelson Mandela, Former South African President, Dies
Anti-Apartheid Hero Mourned Around the Globe
Stacy M. Brown | 12/5/2013, 4:48 p.m. | Updated on 12/6/2013, 12:27 a.m.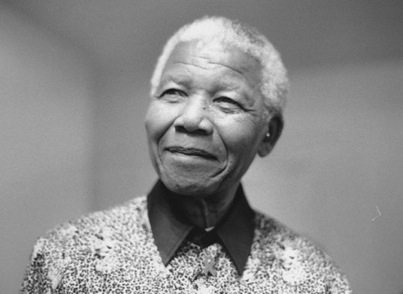 "I hope people feel emboldened where they see injustice, seek change. He spurs us to be better and want better in the world. We won't see anyone in our lifetime like him again. But people inspired by him will rise up and challenge injustice and try to bring about change."
TransAfrica is an organization located in Northwest that advocates for Africans and those in the African Diaspora, and serves as an education and research center dedicated to global justice for Africans anywhere in the world. Its Free South Africa Movement was instrumental in bringing the reality of the apartheid struggle into American homes and mobilizing people here to lobby and demonstrate in support of black South Africans and for change. TransAfrica Founder Randall Robinson, Mary Frances Berry, Charles Ogletree and others sensitized lawmakers, students and those in policymaking positions of the need to support anti-apartheid efforts.
Mandela became the leader and public face of the anti-apartheid struggle against a brutal white racist government. A fierce and unrelenting opponent of apartheid, Mandela rose to prominence in 1952 during what became known as the Defiance Campaign. He orchestrated a three-day national workers' strike and was arrested and sentenced to five years in prison.
He and colleagues like the late Oliver Tambo, Walter and Albertina Sisulu, Billy Nair, Joe Slovo and Mac Maharaj, 78, who currently serves as Zuma's press secretary, combined their strategic and intellectual skills in the 1950s as they and other South Africans engaged in a series of popular protests and uprisings against the violence, oppression, bannings, and imprisonment of anyone who stood up to the white minority government.
Mandela, who was the first black trial lawyer in the country, was brought to trial again in 1963. He and 10 other African National Congress leaders were sentenced to life in prison for alleged political offenses, including treason. He would serve 27 years and walked out of prison a free man on February 11, 1990.
"TransAfrica brought Mandela here [Washington, D.C]," said Lee of Mandela's 1991 visit. "I talked to people who worked on that. They spoke of Mandela's impact, the inspiration and sense of purpose that he brought to crowds in Atlanta, Boston and elsewhere. There really isn't anyone like that in recent memory. He was called a terrorist and he defied them all. One of the things I think about a lot is the almost 'white-washing' of Mandela. He was defiant even though he is now seen as a patriarchal figure."
"My favorite picture of [Mandela] is him in his traditional garb. He refused to be intimidated and bullied by people who controlled every aspect of his life. It makes me ask what have we settled for?"
Author and journalist Juan Williams, 59, said Mandela's passing stoked fond memories of the renowned leader. Almost by accident, Mandela tasked Williams to become his correspondence secretary following his release from prison.
"I have special memories because I got to know him a little bit," Williams said. "I visited him in Soweto and remember his incredibly soft hands and kind smile. I also remember how different he is, well was, from every world leader I've met. He didn't seek to dominate conversations. He wanted to talk to me."