Nelson Mandela, Former South African President, Dies
Anti-Apartheid Hero Mourned Around the Globe
Stacy M. Brown | 12/5/2013, 4:48 p.m. | Updated on 12/6/2013, 12:27 a.m.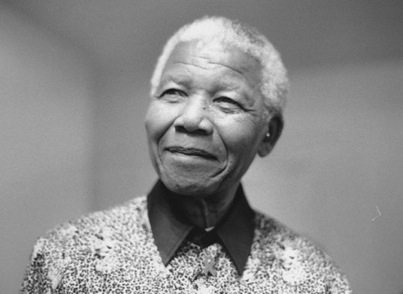 "He's the center of the world's attention right now. When I met him, I was literally brought in with a group of people, diplomats, because he read a book I'd written ["Eyes on the Prize"]. He asked me to write some notes. At the time, getting time with him was hard. He was a genuinely kind man. He talked about history, the United States and other things. It wasn't all about him, like it is with so many politicians. I was there (writing notes) for three days. He got a response out to everyone."
James Fleming remembers as a teenager hearing about Mandela in some of Bob Marley's songs.
"Nelson Mandela is the epitome, the embodiment of the human spirit and the embodiment of our people's struggle," said Fleming, 50, a federal government employee. "Not only was his struggle on the continent, but through colonialism he connected the long ugly past our ancestors lived through. Apartheid continues to live on in this era but it was played out in a world with opportunities."
"That he could struggle through all of this, be incarcerated, come out without bitterness and come out ready to build is amazing. People brutalize you but still we're able to cling to our humanity. He also helped galvanize me and helped me figure out where I needed to stand in the struggle."
Lee said seeing Mandela walk out of prison in 1990 changed her life.
"I grew up during the anti-apartheid struggle," Lee recalled. "It changed my life. I'm from a small city – Buffalo – where black folks don't do international work. I saw him walk out of prison and I became involved. If not for this, I'd be a corporate attorney making a ton of money. In short, for me, I think the most important lesson I learned from his story is that anything really is possible," said Lee, who has headed TransAfrica for three years. "I didn't come from a very political family. This was the first time I realized that apartheid could be destroyed, that so many people could get together and destroy a system. Everyone doesn't agree on everything, but even a popular president like Ronald Reagan didn't have the final say [about the imposition of sanctions]."
Nadia Bilchik, 49, is a white South African who recalls living a relatively idyllic existence as a child in the affluent and segregated northern suburbs of Johannesburg. It was only when she became a teenager, she said, that she realized the horrors of apartheid.
"Like many white South Africans, I lived in an ignorant cocoon of privilege, with no idea that having two live-in maids, a full-time gardener and a driver was unusual," she said. "It was perfectly normal for my African nannies, Rosina and Phina, to live with us rather than with their own children, and there was no need to learn their language or even their last names. It was only as a teenager that I began to realize something was horribly wrong."