Pepco Plans Higher Rates in Maryland
Utility Company Wants $4.80 Increase
Joshua Garner | 12/6/2013, 2:14 p.m. | Updated on 12/11/2013, 3 p.m.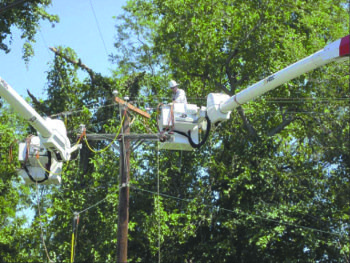 Residents in Maryland could soon see increases under a plan by a major utility company to raise rates by as much as $4.80.
Pepco announced last week that it's requesting approval from the Maryland Public Service Commission to raise rates for households in Prince George's and Montgomery counties. The increase totals $43.3 million, about 3.26 percent, is needed to pay for the reliability investments the company has made toward its service, according to Pepco.
"Pepco has been focused on meeting and exceeding our customers' expectations," said Donna Cooper, president of Pepco Region, in a statement. "For more than three years, we have been working to upgrade our system and enhance the reliability of service for our customers. We are achieving that goal, and our work continues."
Still, Pepco's request comes as the company has spent recent years upgrading its infrastructure in response to frequent and lengthy service outages during storms. In 2011, Pepco was ranked as one of the most reviled companies in America, according to data collected by the American Consumer Satisfaction Index.
Council members in Prince George's and Montgomery counties have berated Pepco officials when extended outages occurred such as in the case of the 2012 derecho storm.
The company has spent $238 million between October of 2012 and September of 2013 to improve its infrastructure and distribution ability with an additional $234 million to be spent in 2014, according to documents it filed with the Maryland Public Service Commission. Pepco noted that in 2012, it met or exceeded all key service quality and reliability standards set by the commission.
But for some, Pepco hasn't done enough to turn around its service to warrant a rate increase.
"People resent giving Pepco more money given how long they've endured poor service," said Montgomery County Councilman Roger Berliner (D-Dist. 1) of Bethesda. "There are people in Montgomery County who cannot afford any increase – the community has felt disappointed in Pepco for a long time."
Berliner, who specializes in utility policy, said that any rate increases Pepco is granted should be tied to its performance. While the number and duration of outages has improved since 2010, he said Pepco's overall performance has not risen to the level that justifies an increase in its return on equity.
"They're undoubtedly still the worst [utility company] in Maryland and I don't think that's enough to justify [an increase]," he said.
Residents said that the increases add up over time – Pepco previously raised its rates in July.
"This is a frog in a boiling pot situation," said Crystal Gayle of Bladensburg. "All these incremental increases add up especially during the winter and summer when air-conditioning and heating are running," said Gayle, 31.
It could be at least seven months before residents see any increase in their monthly bills. The Maryland Public Service Commission will hold a series of hearings to vet the request. If approved, the commission is not likely to grant Pepco a full increase. In July, the commission granted a $2.41 monthly increase, less than half of what Pepco requested.
A prehearing conference for the request is scheduled for Jan. 7, 2014 at the Maryland Public Service Commission headquarters in Baltimore.
For more Prince George's County/Maryland news, follow @JoshuaGarnerDC on Twitter.