RG3 Benched in Blowout Loss to Kansas City
WI Web Staff | 12/8/2013, 6:45 p.m.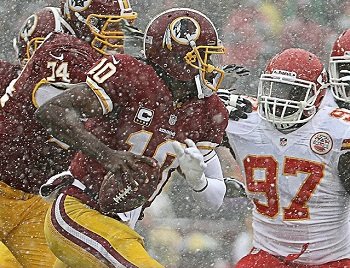 The Washington Redskins' season is all but done. The drama, however, is just beginning.
Washington (3-10) was blown out at home Sunday afternoon by the Kansas City Chiefs (10-3), which snapped a three-game skid with an easy 45-10 win in a dreary, snow-filled spectacle.
The Chiefs dominated right from the start, putting 31 points on the board before the Redskins scored their lone touchdown late in the second quarter. Kansas City answered right away as Quintin Demps returned the ensuing kickoff 95 yards for a touchdown, essentially ending the game before the half.
The only remaining theater for the home fans that stuck around was the fourth-quarter benching of franchise quarterback Robert Griffin III in favor of Kirk Cousins, who was equally ineffective.
In the past several weeks, many football fans and pundits have clamored for Redskins head coach Mike Shanahan to sit Griffin, who is less than a year removed from major knee surgery and has noticeably struggled during the Redskins' current five-game losing streak.
Shanahan said he informed Griffin that he would be pulled once he felt the lead was insurmountable.
"I told Robert that … once I felt like the game was out of reach that I was gonna put Kirk in there," he said in his post-game press conference.
Shanahan wouldn't answer whether Griffin would start next week against the Atlanta Falcons.
For his part, Griffin said Shanahan told him that he would sit him to avoid injury. Asked if he had any doubt if he would be the starter against Atlanta, Griffin deadpanned, "It's not an issue."
The benching comes amid an ESPN report before this week's game that Shanahan was ready to quit after the playoffs last season, in part because he didn't like the closeness of the relationship between Griffin and team owner Dan Snyder.
The organization has steadfastly denied the report.
Shanahan took full responsibility for his team's "horrendous" play on Sunday, but not before addressing the ESPN story.
"It's not the right time or place to talk about my relationship with Dan Snyder or the right time or place to talk about something that happened a year ago," he said. "I'll get a chance to talk to Dan at the end of the season, and I'll give him some viewpoints from me, and I'm sure he'll give me his thoughts and what direction we'll go, and we'll communicate that at the proper time."
Griffin also declined to talk about the report, though he gave a rather cryptic answer to a question of why his relationship with Shanahan is constantly scrutinized.
"I don't know," he said. "I'm getting frustrating now, too, in trying to hold everything back. But it's just some things are allowed to happen and we can cut a lot of this stuff out, and it's not being cut out. So I don't know what else I can do about that. I come to work every day, I work with those guys every day, and I'll go to war with them every day. It's very unfortunate, and that's all I can say about it at this time."
Griffin was visibly rankled by the line of questioning about off-the-field matters during the post-game session.
"That's not what this game is about. Constantly I come in these press conferences, and I get asked every question about non-football things," he said. "That's not the way the game should be going, and when you're sitting at 3-10, you partially understand some of it, but at the end of the day, there's other questions that need to be asked and other things that we have to do, and one of them is playing better.
"None of us played good today — I didn't play well," Griffin said. "They outplayed us today, there's no other way around that."