Hypertension in Black Men Linked to Childhood Experiences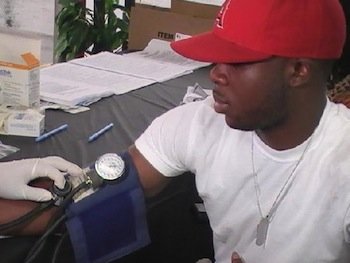 While issues such as health care, socioeconomic status and even racism play a role in hypertension among African-American men, a new study shows that childhood experiences may also negatively affect their health as adults.
The Howard University Family Study, which was published in the journal of the American Heart Association, observed 500 black men over the age of 20 and living in the District, according to Fox News. Those who grew up with one parent had higher blood pressure, while men who were raised in a home with both parents tended to have lower readings.
"These differences in mean blood pressure and the prevalence of hypertension among men raised in two-parent households vs. single-parent households during childhood are quite significant," said Debbie Barrington, who led the study at the National Institute on Minority Health and Health Disparities in Bethesda, Md.
While other studies have linked childhood living arrangements to hypertension, this is the first that focused on black males, who are particularly prone to developing the disease. If left untreated, high blood pressure can lead heart attacks, strokes and death.
Barrington also explained in the Fox News report that while the presence or absence of parents might not be directly related to blood pressure, the number of parents in the home could be an indication of other significant childhood risk factors, including poverty.
"Those men who grew up in two-parent households during childhood were also more likely to experience less economic hardship and subsequently less stress in early life," Barrington said. "Less childhood stress potentially delays the rise of blood pressure that increases with age, lowering one's risk of hypertension in adulthood."