Area College Students Honor Mandela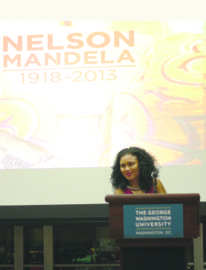 More than 100 students gathered around a flag pole on Howard University's main quad in Northwest less than an hour after news of Nelson Mandela's death broke on the evening of Thursday, Dec. 5. Students held hands, lit candles, and chanted throughout much of the night.
"It's amazing to see the community come together [on such] short notice. Nelson Mandela is a person who made great sacrifices for peace," said Justin Miles, 22, one of the many who paid their respects to the elder statesman. "You have to take things in your own hands and do things to uphold [the greater good]. Mandela lived a full life even after serving 27 years in prison. His legacy compels me to think about things in the long run and not just the short term," said Miles, a senior who lives in Crofton, Md.
College students across the D.C. metropolitan area mobilized, hosting impromptu meetings immediately following news of the world leader's death. Throughout much of the weekend, plans jelled for candle light vigils, marches, lectures, and other events set to take place later this month and next semester.  
The Caribbean Student Association (CSA) at The George Washington University (GW) in Northwest opened its annual holiday dinner on Saturday by honoring Mandela. Samantha Dewar, president of the GW CSA, led an audience of more than 30 in a moment of silence.
"It is truly unfortunate that we have lost such a great world leader such as Mr. Nelson Mandela," said Dewar, 20. "Not only was he able to break the mental chains and shackles locked by generations of abuse, imprisonment, and racial degradation, but he was a global ambassador of service who embodied nothing but peace and selflessness. The world is mourning the death of a powerful and influential leader whose legacy will forever live on," said Dewar, a junior at GW who lives in Northwest.
Mandela joined the anti-apartheid movement in the 1950s when the South African National Party rose to power and established the country's racial segregationist system, first as a leader of the African National Congress Youth League and later its armed wing, Umkhonto we Sizwe. In 1962, authorities arrested and convicted Mandela of conspiracy to overthrow the government and sentenced him to life in prison.
After serving 27 years in prison, Afrikaner authorities released Mandela on Feb. 11, 1990 during a period of civil unrest throughout South Africa. Instead of inciting violence, Mandela negotiated a deal with then-South African President F.W. de Clerk to abolish apartheid and establish the country's first multi-racial elections.
In 1994, Mandela was elected as the country's first black president, running on a platform of reconciliation and socioeconomic parity. As president and in the years following the end of his term, Mandela traveled the world and met with world leaders, community organizers, and labor unions, speaking highly of their efforts toward building solidarity with their causes. He received more than 260 awards in his lifetime including the Nobel Peace Prize in 1993.
In 2004, Mandela retreated from public life, only appearing to speak before the United Nations and Brookings Institute in Northwest about Africa's need for economic assistance and to announce the launch of the Mandela Legacy Trust, a charitable organization that promotes education and training on the continent.